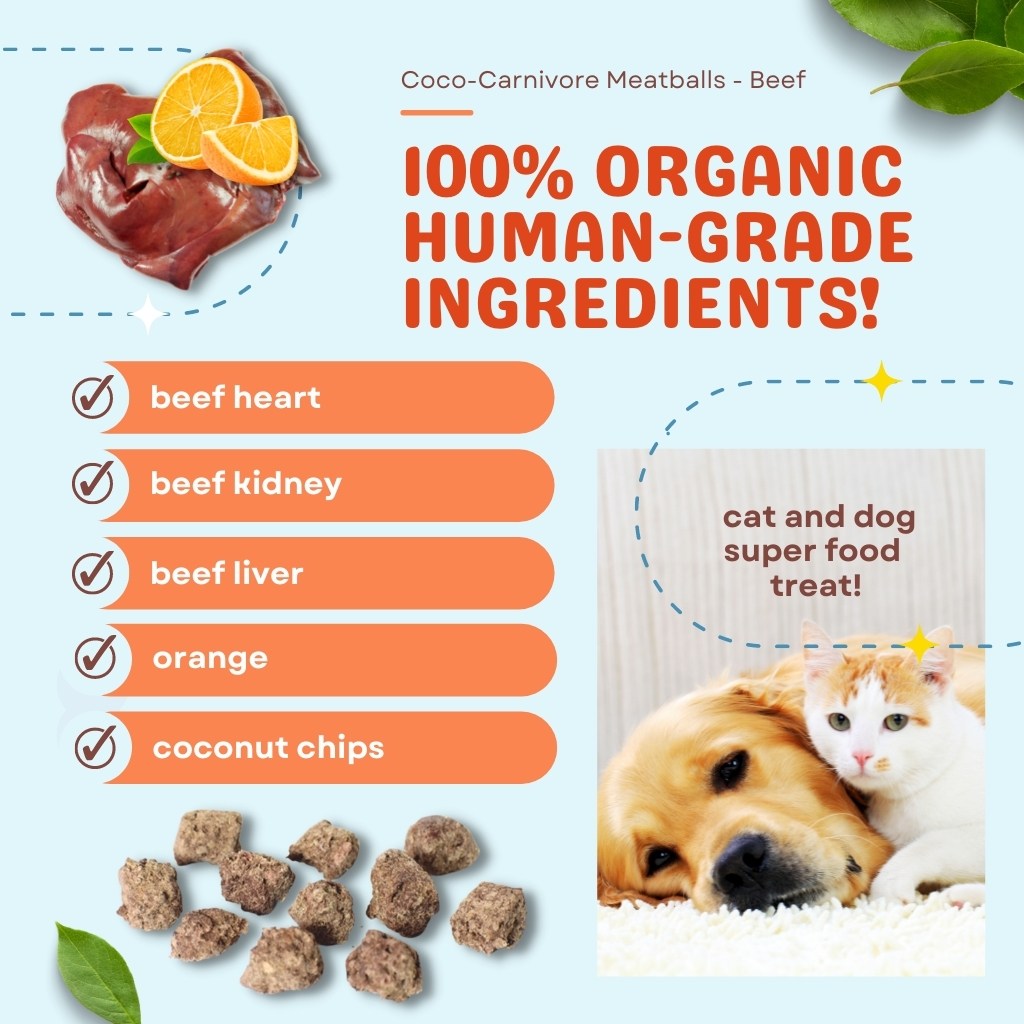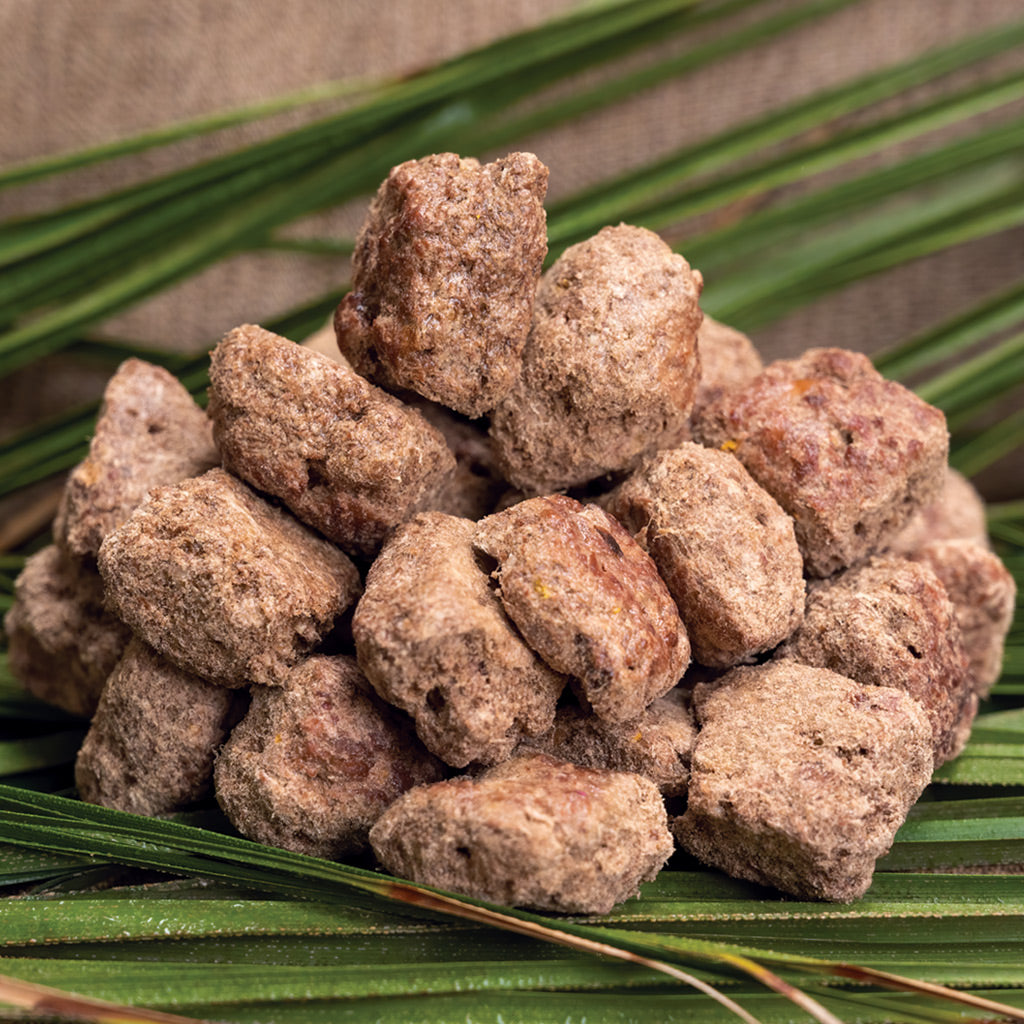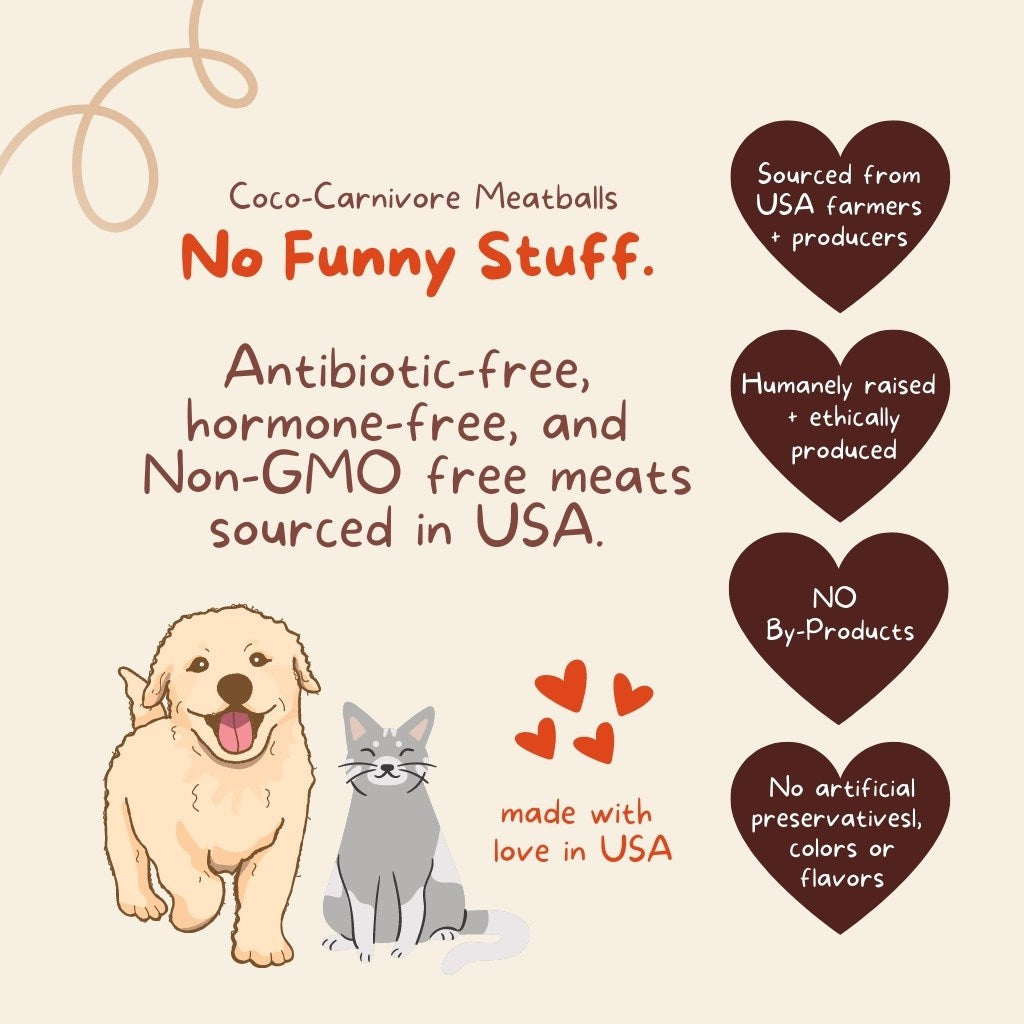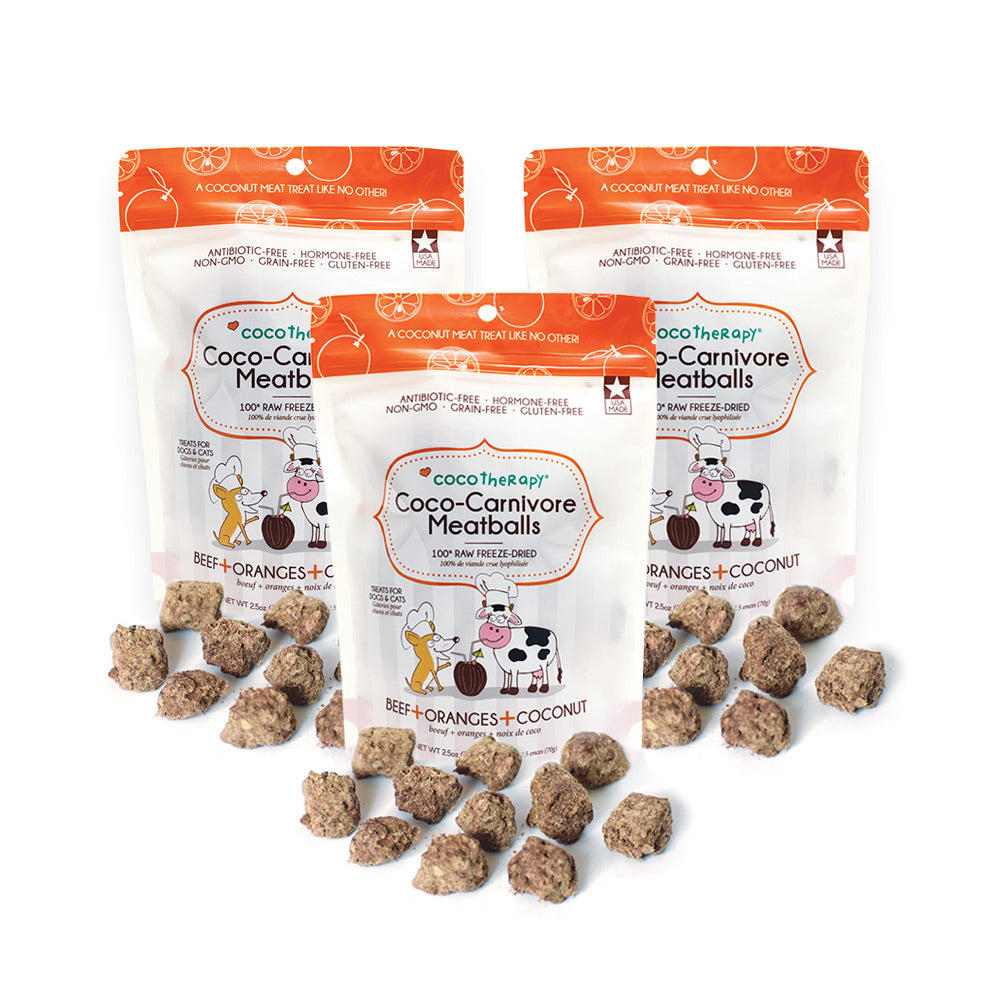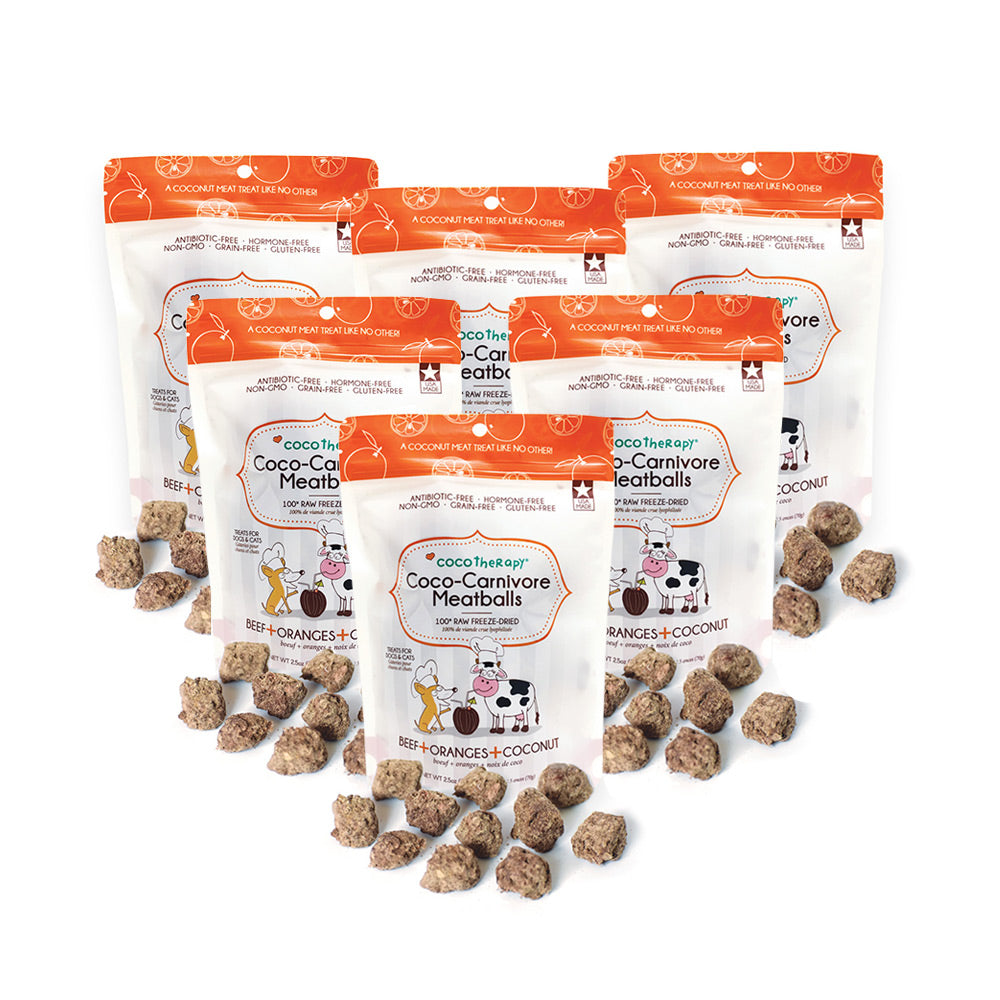 Coco-Carnivore Meatballs – Beef + Orange + Coconut
Contains:

1 package of Coco-Carnivore Meatballs

Flavor: Beef + Orange + Coconut
Coco-Carnivore Meatballs - Raising the bar beyond the common meat treat! Organic Coconut MEAT Treats for Dogs and Cats, made with organic CocoTherapy Coconut Chips.
The ultimate freeze-dried, RAW meat treat, Coco-Carnivore Meatballs™ is for the meat lover connoisseur. We wanted to make freeze-dried meat treats that were not only delicious, but super healthy for our pets. This meant that we only use meats that are antibiotic-free, hormone-free, and Non-GMO.
We also wanted to make sure the meats were humanely raised and ethically produced, sourced from USA farmers and producers. Then we added the extra health benefits of super-foods from fruits, vegetables, herbs, plus our CocoTherapy Coconut Chips!
Coco-Carnivore Meatballs are:
Antibiotic-free

Hormone-free

Grain & gluten free

Raw & freeze-dried
No preservatives, colors, or flavors
Humanely raised and ethically produced
Made with the finest ingredients:

100% Human-grade ingredients

Made with organic CocoTherapy Coconut Chips

No by-products

Non-GMO

Sourced from USA farmers and producers
Ingredients: Beef heart, beef kidney, beef liver, oranges, organic coconut chips
Calorie Content (calculated):

Metabolize Energy: 3,360 kcal/kg

Average treat: 16 kcal
Is your dog a chewer or a gulper? For small dogs, or if your dog is a gulper, consider breaking up treats in small pieces when giving to prevent choking. Please monitor your at all times dogs when giving any treats.
Net Weight: 2.5 oz (70g) Comes in a re-sealable pouch.
MADE IN THE USA.
Yummy Yum Yum says Sirius Lee
Our rescue Beagle, Sirius Lee, loves these treats. All natural so we know he is getting the best!
Quality Treats!
My fur baby love these treats and it recently has become a lifesaver as she has been issues with her appetite. She will never turn these down and I feel confident giving her a treat that has quality plus beneficial and healthy ingredients. Thank you Cocotherapy for being a staple in our household!
Bailey's Seal of Approval!
Finding treats for my seizure pup Bailey is tricky, so the fact that he loves these is a double win! Bully sticks used to get his attention above everything else until we found these…now, given the choice, he takes the meatball every time!
New favorite treat
Both of my dogs loved these treats. It makes me happy to give them healthy treats. I will def be ordering more.
Meatballs
Easy to break in half for a small breed dog with few teeth left. I also love the ingredients