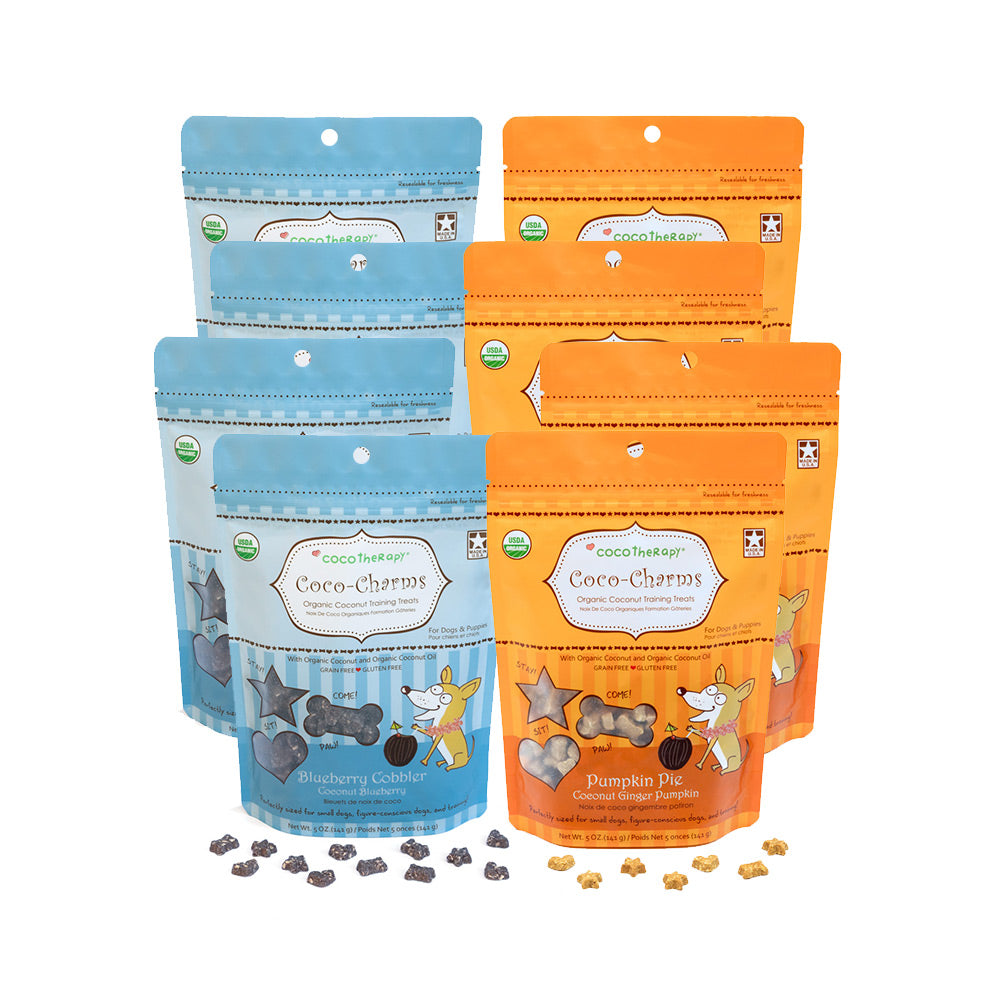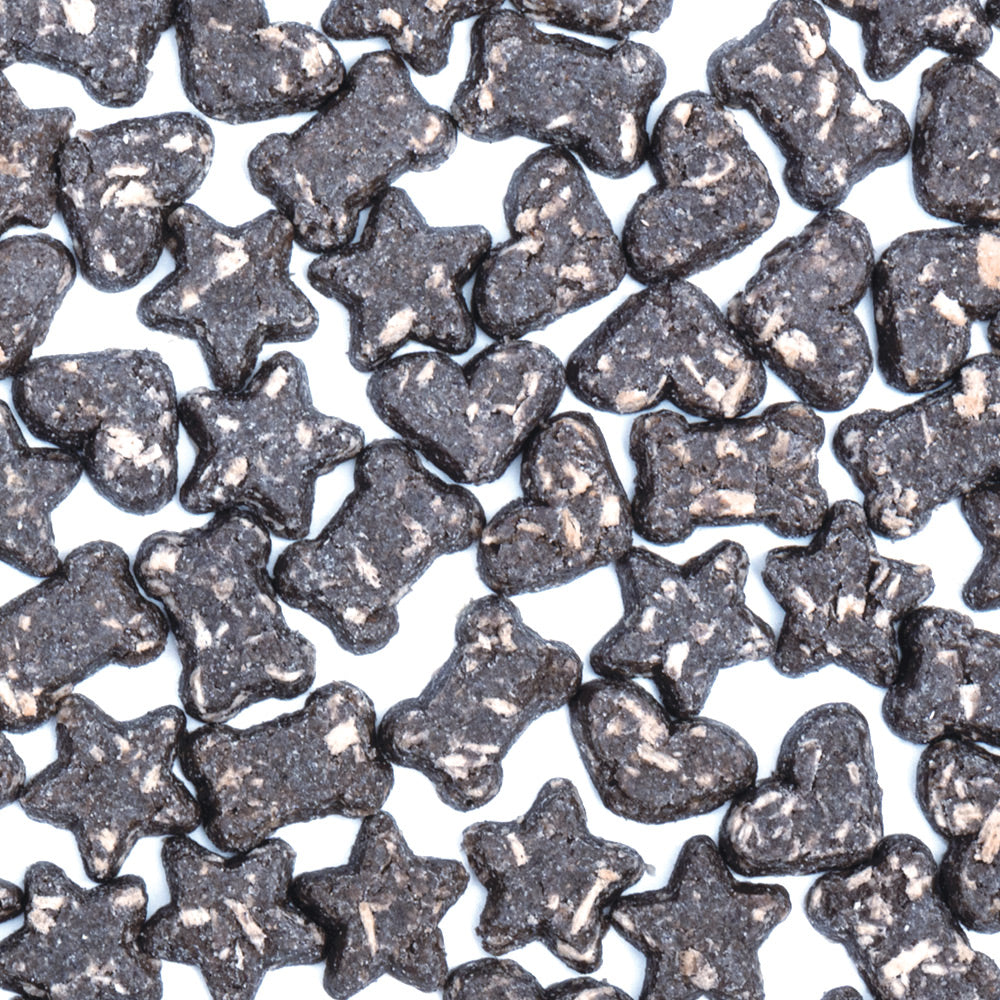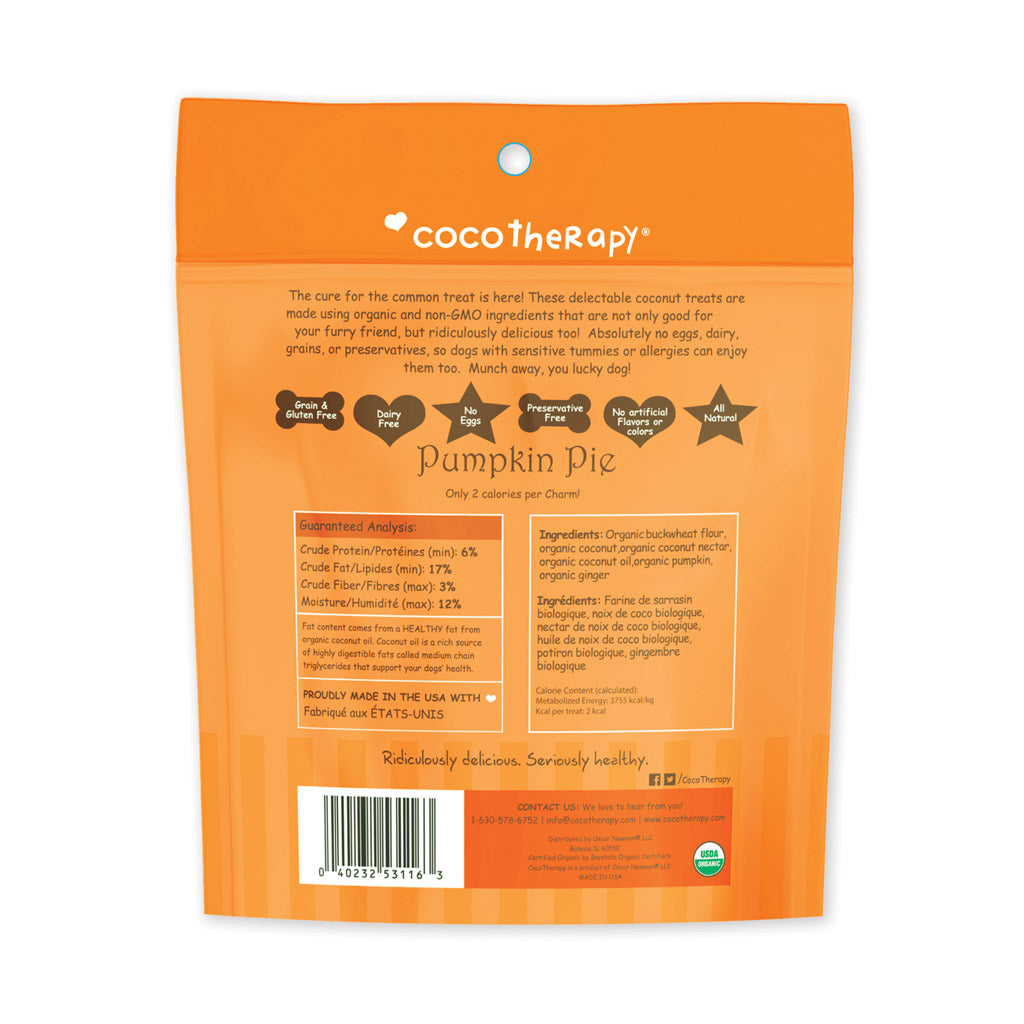 Coco-Charms Training Treats Double Delight - Organic Training Treats for dogs
The organic training treat for dogs, Coco-Charms Training Treats are made of organic coconut and coconut oil for dogs. Coconut for dogs is a hypoallergenic, healthy ingredient, with raw coconut oil for dogs skin and overall health. Truly delicious, healthy organic dog treats!
Contains: 1 package of each flavor:  1 Coconut Blueberry Cobbler, 1 Coconut Pumpkin Pie

Perfectly sized for training, small dogs, or figure-conscious dogs! Coco-Charms™ Training Treats for dogs are made using 100% organic and non-GMO ingredients, organic coconut and coconut oil for dogs that are not only good for your furry friend, but ridiculously delicious too!  Absolutely no eggs, dairy, grains, or preservatives, so dogs with sensitive tummies or allergies can enjoy them too.
CocoTherapy Coco-Charms Training Treats for dogs are vegan, grain and gluten free, dairy free, no eggs, and made with no preservatives, colors, or artificial flavors. This means dogs with allergies and sensitive tummies can enjoy them and benefit from them as well!
Coco-Charms Training Treats for dogs are a truly beneficial treat:
Supports digestive health – coconut fiber has been shown to support digestive health and provide the healthiest form of fiber

No animal protein. Excellent for dogs on a limited protein diet or single source protein diet (ie: dogs with kidney, liver issues, or allergies).

Supports skin and coat health
Supports healthy weight
Pure, simple ingredients
Tiny size perfect for small dogs, training and figure-conscious dog
Available in 2 Flavors:
Coconut Blueberry Cobbler
Ingredients: Organic buckwheat flour, organic coconut, organic coconut nectar, organic coconut oil, organic blueberries.
Calorie Content (calculated):

Metabolizable Energy: 3,755 kcal/kg

Average Treat: 2 kcal
Coconut Pumpkin Pie
Ingredients: Organic buckwheat flour, organic coconut, organic coconut nectar, organic coconut oil, organic pumpkin, organic ginger.

Calorie Content (calculated):

Metabolizable Energy:

3,755

 kcal/kg

1 treat: approximately 2 kcal
All ingredients are 100% human grade, 100% USDA certified organic, and non-GMO.
Net Weight: Each bag is 5 oz (141 g) Comes in a re-sealable pouch.
MADE IN THE USA.
LOVE these HEALTHY treats for sensitive tummies!
I am highly selective when it comes to food and treats for my fur-kid, Ellie. She has multiple food sensitivities and cannot tolerate many of the treats on the market without a reaction. Limited ingredients are a winner for me, and it is difficult to find in dog treats and dog food. I was baking my own treats for a while, but ran across these and hit the jackpot! I was unsure about the size of the treats at first...They are TINY and my English Bull Terrier is 52 pounds. BUT, they are actually PERFECT because I do not want to give her large amounts of treats on an outing or in a training session. I give her one or two at a time, depending on what we are doing. If she recalls successfully from a long distance, she'll get 3. She is highly motivated by these treats and even gives just one a "crunch" before swallowing! They smell fresh and yummy, and I love that they are organic, which is important to me. Please don't ever change the recipe or add more ingredients...These are perfect just the way they are. I will be a customer for life! Thank you for making the perfect treat for pups with food sensitivities and intolerances!
Perfect for my boys!
These smell delicious and my picky boys love them. Great for small dogs and awesome for training!
The best treat in the world
My 9 yo dog loves the Coco-charms since he was 3 yo. He is very picky but never refuses Coco-charms. Thank you so much for making great treats!
tiny size is perfect for training
My dogs love these treats that are made with healthy organic ingredients & I love the tiny size for training
Perfect little treat!
Cocotherapy are not only great as training treats but small enough to give my Penny at anytime I want to treat her. She loves them!
Great little treats!
I first used these for a training treat, but now I use them for a small treat anytime!
great treats
Our 3 dogs love these treats... and I don't need to worry if they are loaded with bad ingredients. They are absolutely delightful and our dogs LOVE THEM!!!!!!!! Def will buy more! I love your products.