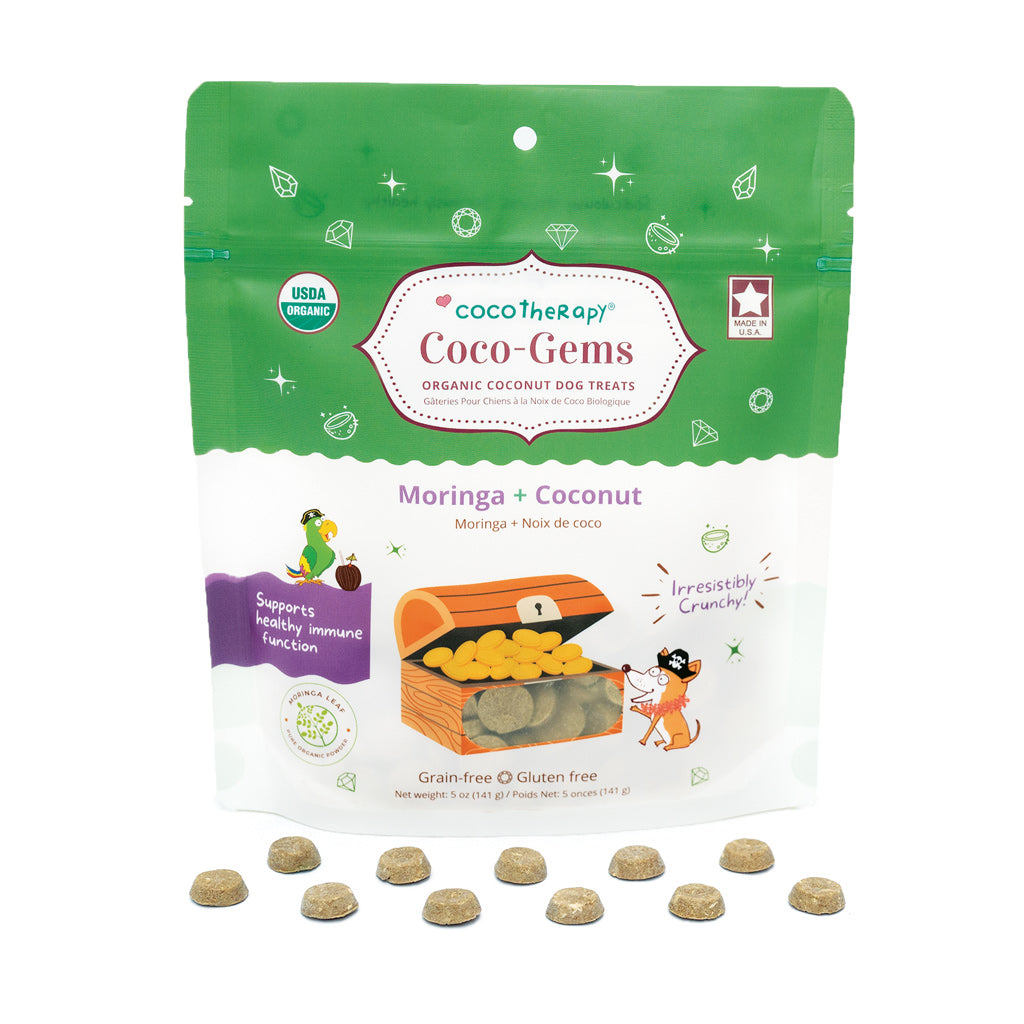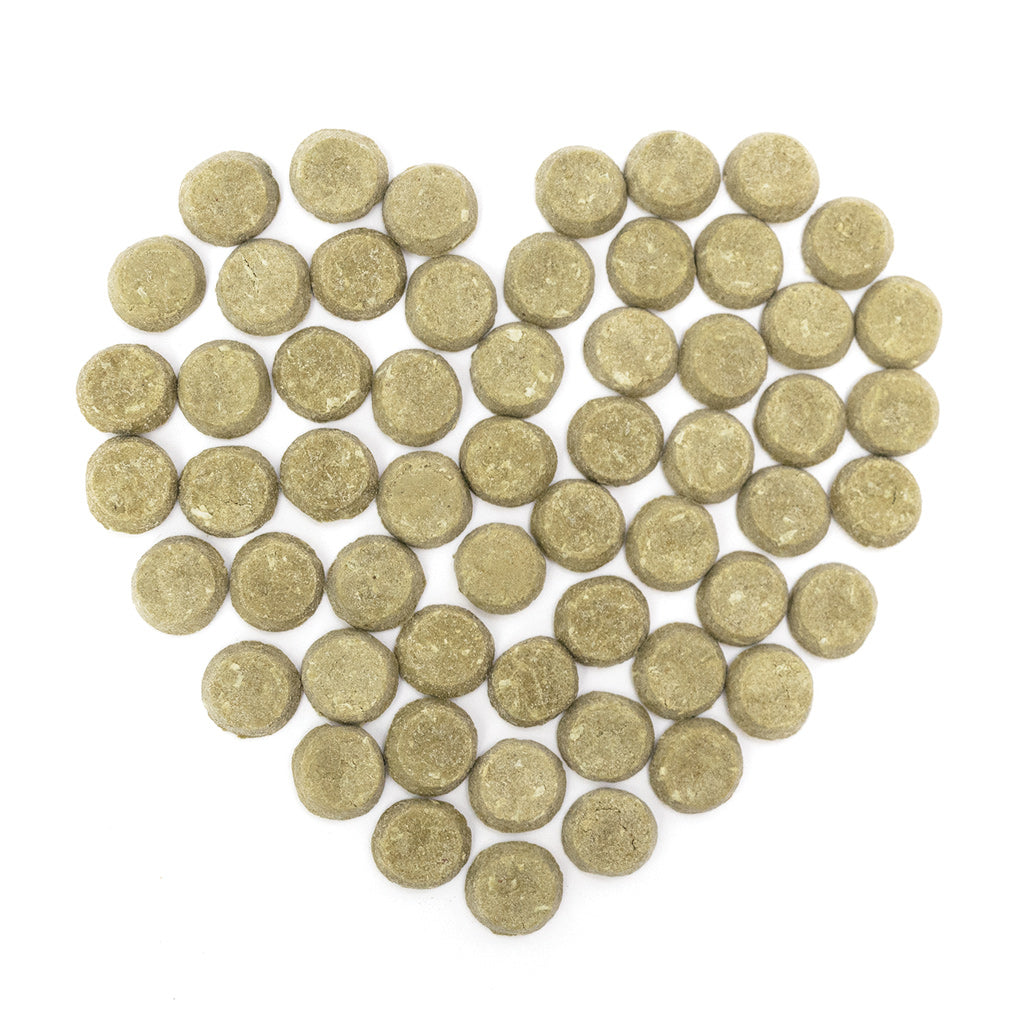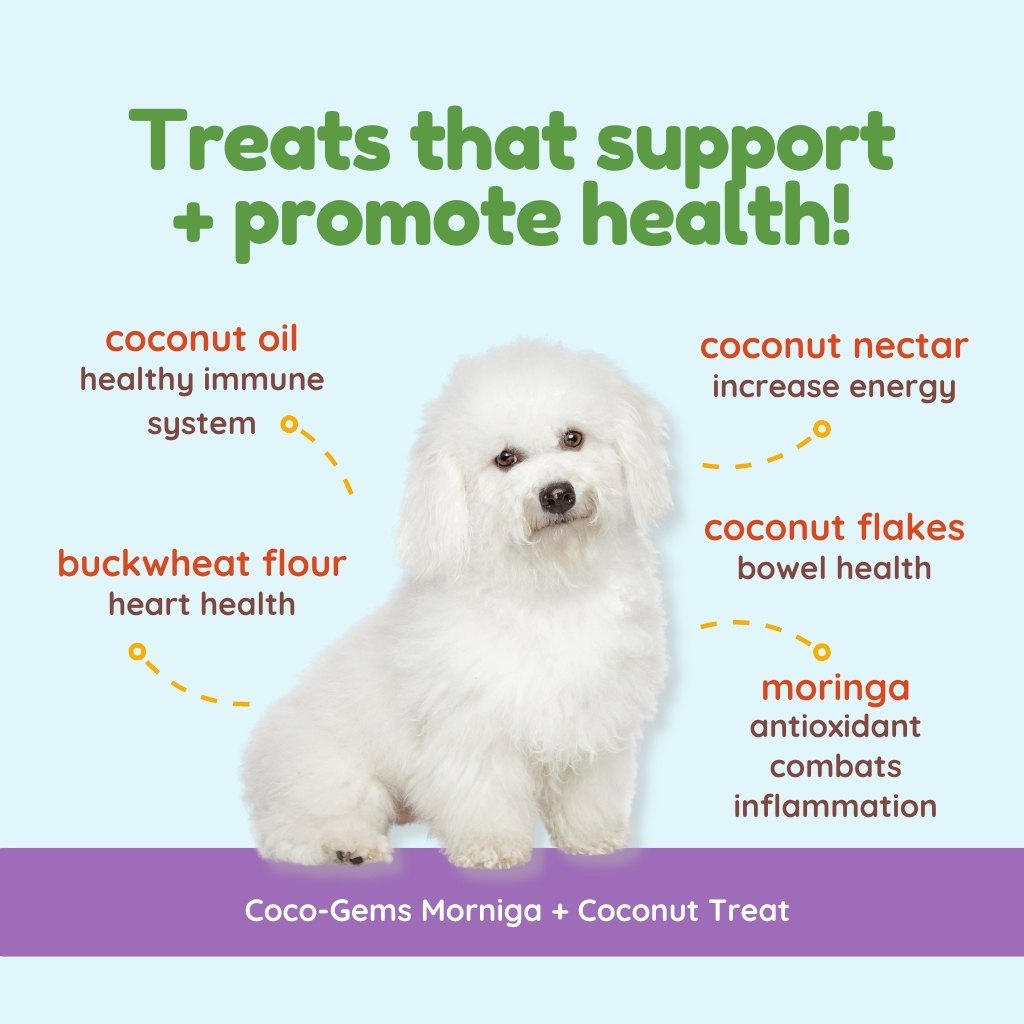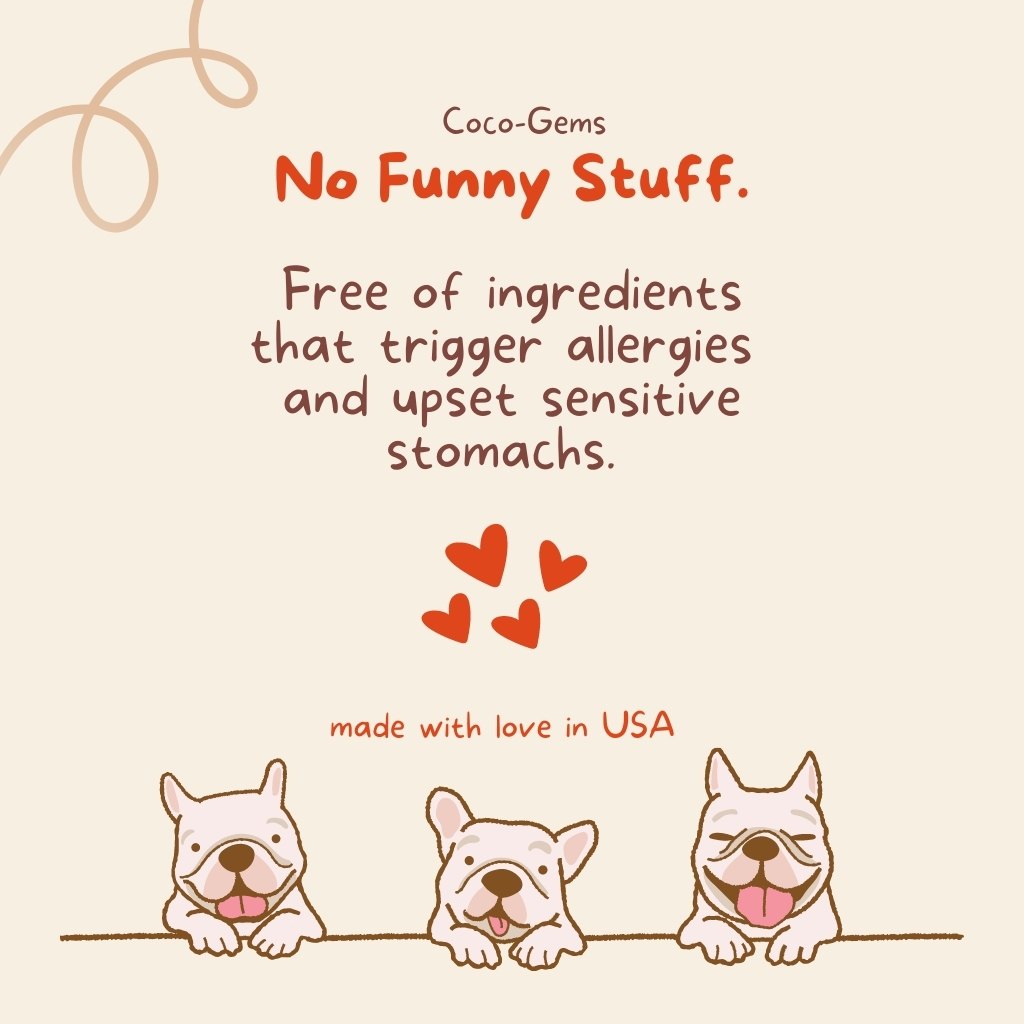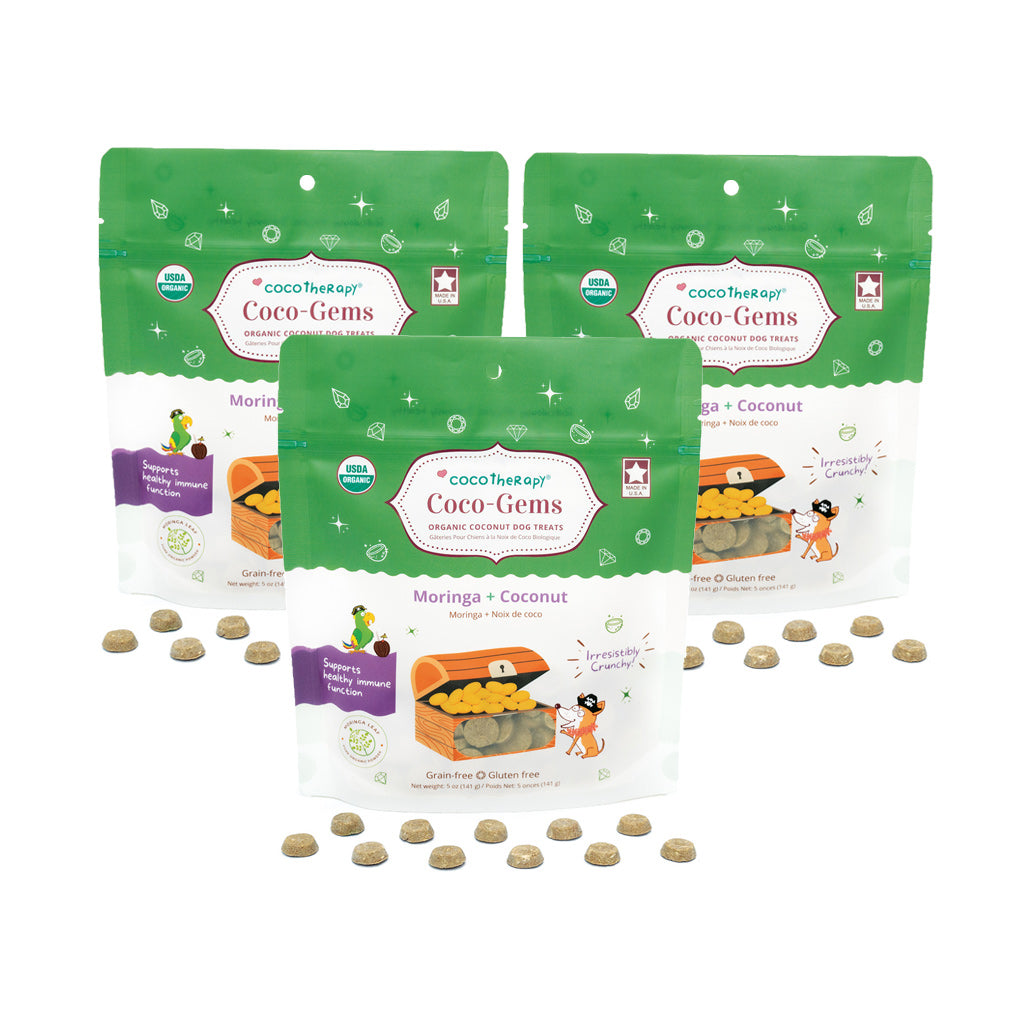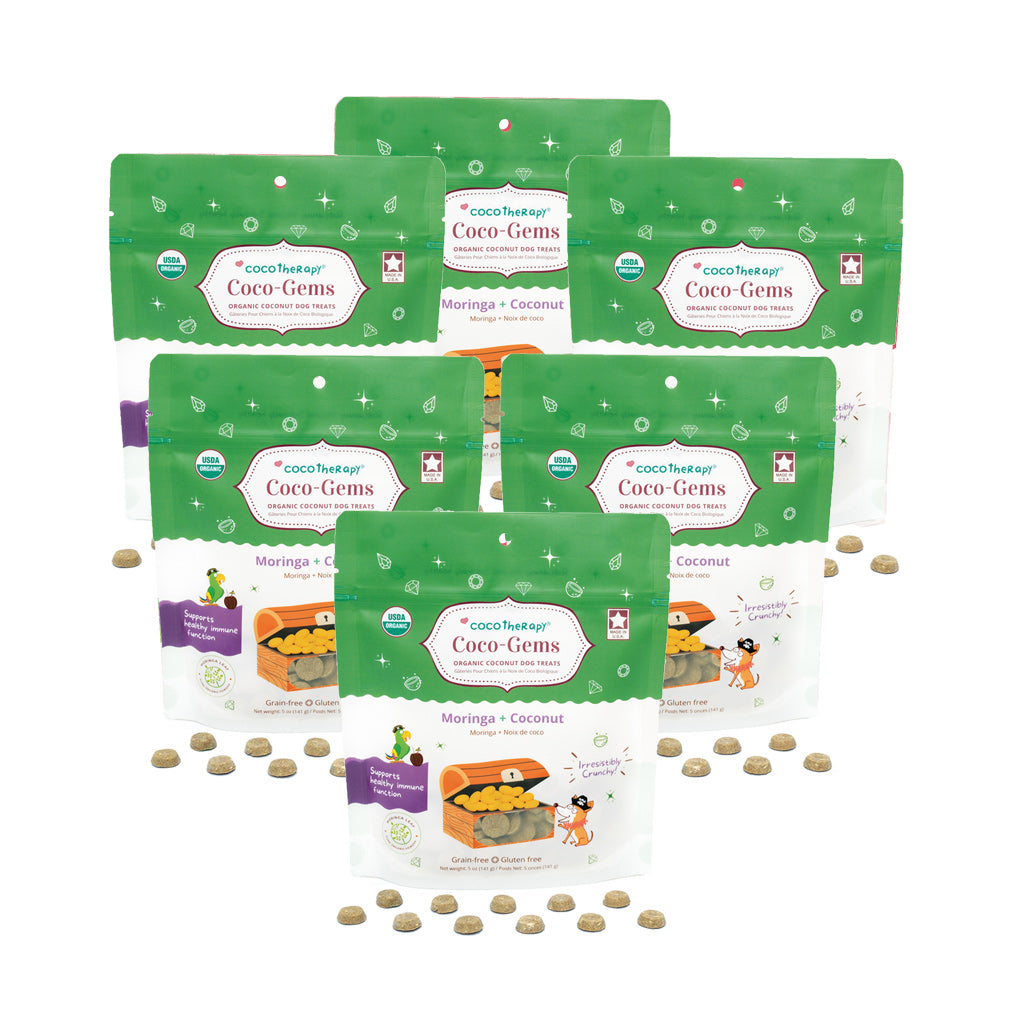 Coco-Gems Training Treats Moringa + Coconut - Organic Training Treat for dogs
Coco-Gems Moringa + Coconut is a delicious, crunchy training treat that supports healthy immune function and digestive health in your dog. Organic moringa is a phytonutrient-rich plant that is used as a powerful antioxidant to help support healthy immune function. 
CocoTherapy Coco-Gems coconut training treats for dogs are vegan, grain and gluten free, dairy free, no eggs, and made with no preservatives, colors, or artificial flavors. This means dogs with allergies and sensitive tummies can enjoy them and benefit from them as well! 
Coco-Gems Moringa + Coconut training treats for dogs are a truly beneficial treat: 
Supports healthy immune function – organic moringa is rich in antioxidants. It helps combat inflammation and supports a healthy immune system

 

Supports digestive health – coconut fiber has been shown to support digestive health and provide the healthiest form of fiber

 

No animal protein. Excellent for dogs on a limited protein diet or single source protein diet (ie: dogs with kidney, liver issues, or allergies).

 

Pure, simple ingredients

 

Small size perfect for small dogs, training, and figure-conscious dog

 
Ingredients: Organic buckwheat flour, organic coconut nectar, organic coconut flakes, organic coconut oil, organic moringa 
All ingredients are 100% human grade, 100% USDA certified organic, and non-GMO. 
Net Weight: 5 oz (141 g) Comes in a re-sealable pouch. 
Calorie Content (calculated): 
Metabolizable Energy: 3355 kcal/kg

 

1 treat: approximately 2 kcal

 
MADE IN THE USA. 
Nice Crunch!
My Westie loves the crunch of these treats. He gets two first thing in the morning and two at bedtime. I love them because they're so healthy for him!
Great treat for a little guy!
MyQi Mochi loves them! A great addition to his daily CocoTherapy coconut flakes, gems and MCT oil! He especially likes to crunch them! He chews them with his mouth open so we hear how crunchy they are!
Little Mochi is sooo adorable! We're so happy to hear that he loves his CocoTherapy goodies. And we think it's pretty cute to chew with an opened mouth -- as long as it's our fur-kids! Thank you for sending these pics & video. It make our day!
Coconut Moringa
We call these coconut gems for our treat word. They absolutely love them and will do everything they are asked to do in anticipation. Love the health benefits most of all.
Finally - A Healthy Low Cal Training Treat!!
Our Rescue Rafa, a German Shepard, LOVES these treats. He was already addicted to coconut oil so these seemed a good option, especially as they are the perfect pocket size for training treats, during walks, & as the special treat at night. This will keep his weight in the right place while he can be rewarded with the treat that finally gets his attention immediately. And I'm a big fan of Moringa - I take Noni juice daily for my own health so was overjoyed to see this perfect ingredient in these treats for Rafa. Thank you - He & I are BOTH grateful.