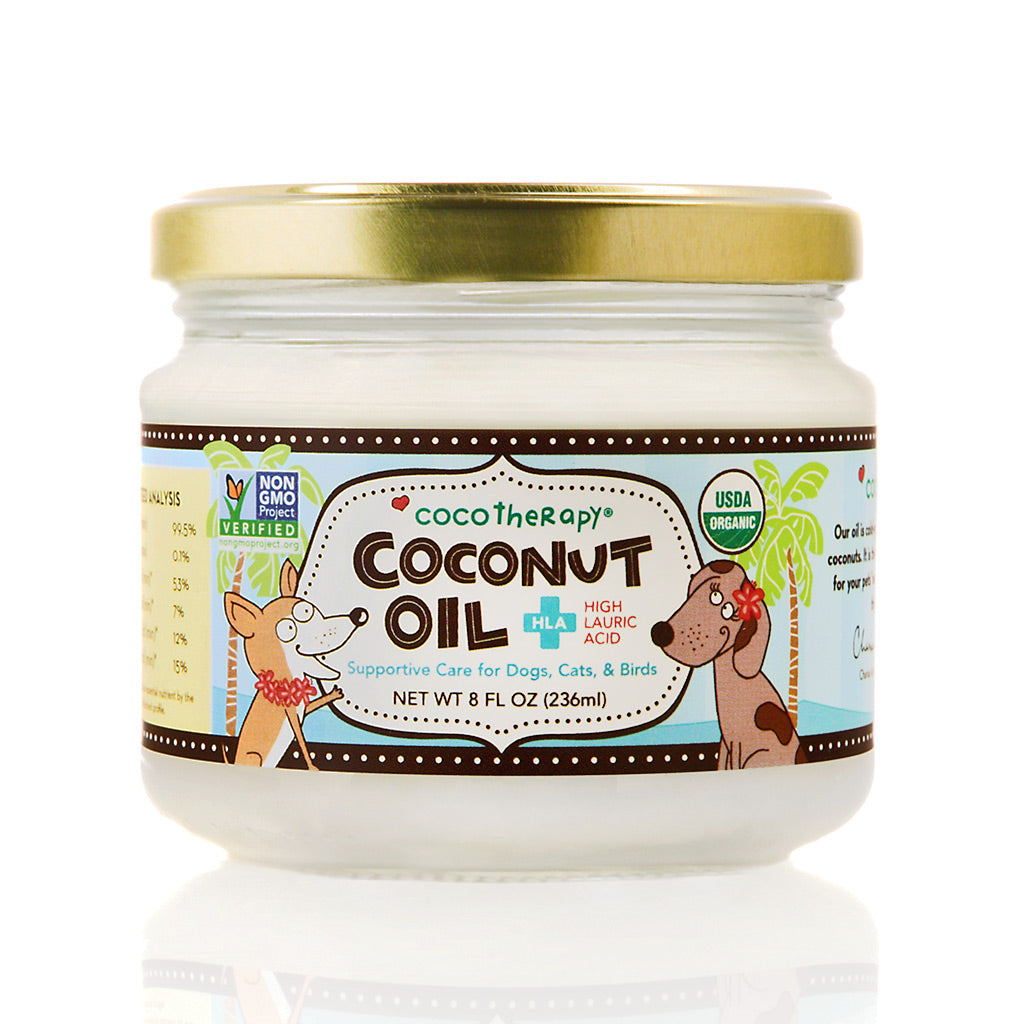 Organic Coconut Chips + Virgin Coconut Oil (8oz)
Thanks for signing up for restock notifications!
There was an error signing up for restock notifications. Please try again.
This item is out-of-stock. Email me when available.
The most effective, best coconut for dogs, cats, and birds. Organic Coconut Chips and Organic Virgin Coconut Oil for dogs, cats, and birds works synergistically together for cats and dogs allergies, digestive issues, and more.
Contains: 1 - Organic Coconut Chips (6 oz), 1 - Organic Virgin Coconut Oil (8 fl oz)
Perfect for the true coconut lover, the Coconut Lover's Health pack offers the foundation of CocoTherapy's premium coconut products, one 8 oz CocoTherapy Organic Virgin Coconut Oil and one 3 oz CocoTherapy Organic Coconut Chips. All our coconut oil and coconut chips products are 100% human-grade made in our family-owned facility that strictly manufactures only coconut products.
Coconut oil good for dogs, cats, birds, and other pets too! Learn more about benefits of coconut oil for dogs, and all your pets.
Our CocoTherapy Organic Coconut Oil for dogs, cats, & birds is made from the purest, fresh organically grown coconuts from our USDA certified organic coconut farm.
CocoTherapy Organic Virgin Coconut oil is 100% pure and natural:

The only veterinarian-recommended therapeutic-grade organic Virgin Coconut Oil for pets on the market

Non-GMO (genetically modified organism)

Cold pressed

Hexane-free

Unrefined

Non-bleached

NO trans fat

NO hydrogenated fat
Ingredients: Organic virgin coconut oil
Net Weight: 8 oz (475ml)
Our organic CocoTherapy Coconut Chips are made from dehydrated organic coconut meat. The dried coconut flakes are made of pure, 100% organic coconut meat, with absolutely NO sugars, salt, preservatives, or chemicals added. Our organic coconut chips are raw and dehydrated slowly at a low temperature, 98.6° F (37° C). This keeps the nutrients intact, resulting in a raw coconut that tastes fresh, has a wonderful texture, and contains all the rich nutrients found in fresh coconuts.
Benefits of Coconut Chips:

The only veterinarian-recommended organic Coconut Chips for pets on the market


Rich source of dietary fiber

Supports digestive and intestinal health

Supports healthy weight management
Ingredients: Raw, dehydrated organic coconut
Net Weight: 6 oz (170g)
As always, before giving any new treat or supplement, talk to your holistic veterinarian about incorporating coconut oil and coconut into your pets' diet.
Coconut chips
My yorkie is limited on what he can eat so I am always careful and worried
Delicious!
Casper and Freya loved the coconut chips and the coconut oil! Thank you so much!
CocoTherapy Coconut Oil/Coconut Chips
We have a 9 year old Maltese Nicky & when I first gave her the coconut chips in her food she absolutely loved them & I found she was eating more of her food which is a good thing since she is so finicky. I also give her half a teaspoon of the Coco Therapy Coconut Oil & she goes crazy when she is sees it and just laps it up! I have noticed in the last week or so her eyes are much clearer they don't get gunky like they were getting every day. I had to wash her eyes constantly. I was totally amazed at that even my husband noticed it! Now I am hoping it is going to work on her skin & hair since she has issues with that. I believe she has some kind of allergies & we feed her a specific hypo diet from our Vet but have found that it does not clear her skin like I thought it would. I am sure it will take some time with the coconut oil but it does a look a bit better. The skin around her neck is a bit scaly and with continued use of the coconut oil I hope it goes away. I keep checking it. I also find her energy level has gone up. I am really happy with those two products & so is Nicky! Thank You!
Amazing Products!
My dog and I both love the coconut oil and chips! I like mixing the coconut chips in her food which she enjoys a lot. Using this coconut oil to moisturize my skin has helped a lot with my ezcema. Thank you for the high quality you provide!
My dog loves the coconut oil more than chicken!
I got the coconut oil and coconut chips combo and I've never seen my dog get as excited with anything else as she does when I get the jar of coconut oil out to give her some. She also loves the coconut chips which I use as a treat. She also loved the meatball samples you sent, so I will be ordering some of those in the future.
Best Coconut Oil Ive ever used.
I love all the products I purchased but the coconut oil really wowed me. Its so silky and penetrates the skin & fur so well. Her fur was truly conditioned to the center. Soft shiny and no sticky feel and I used alot all over her entire body.
My hands were so soft after that I used it on my own hair. Wow. I thought the other ccnut oils I have been buying in the past were quality but not compared to coco therapy. I gotta buy more jars lol
She liked the coconut chips too. :)0-)
& I ate them too lol