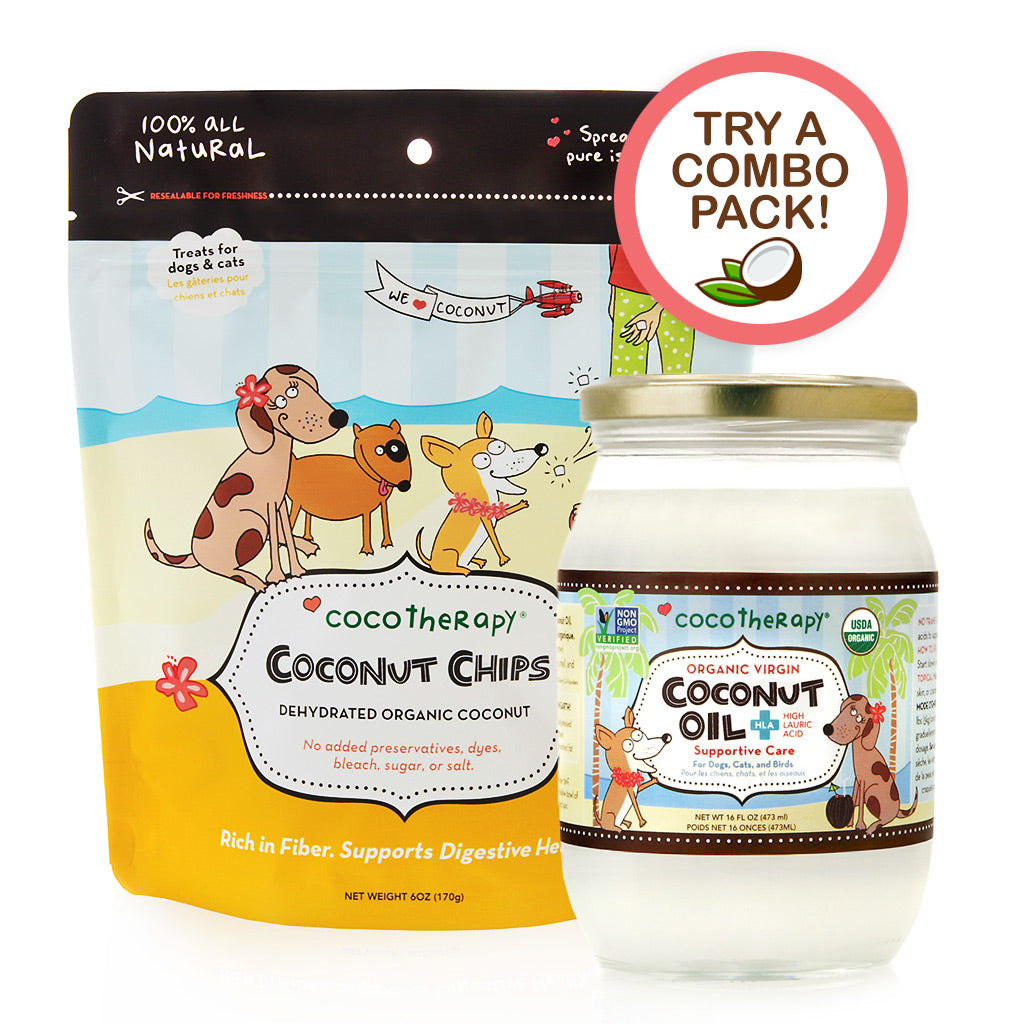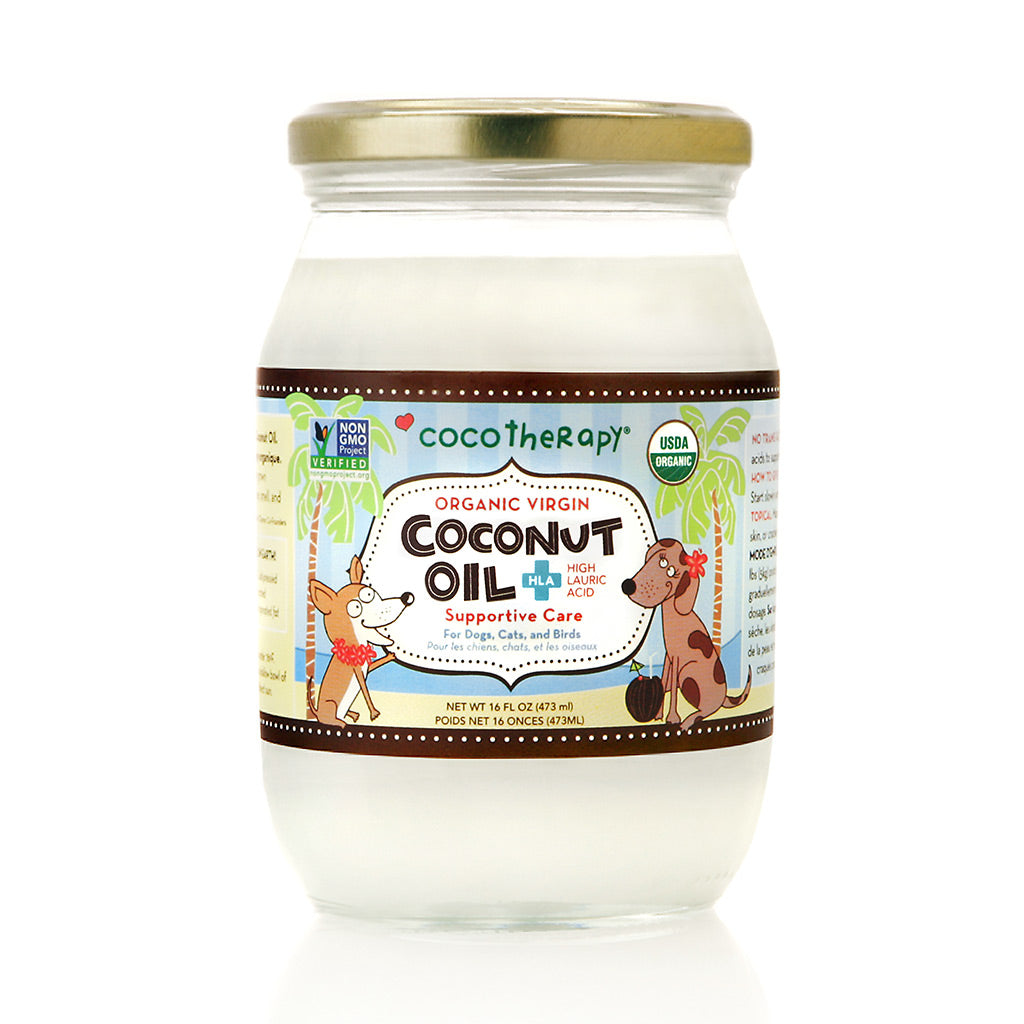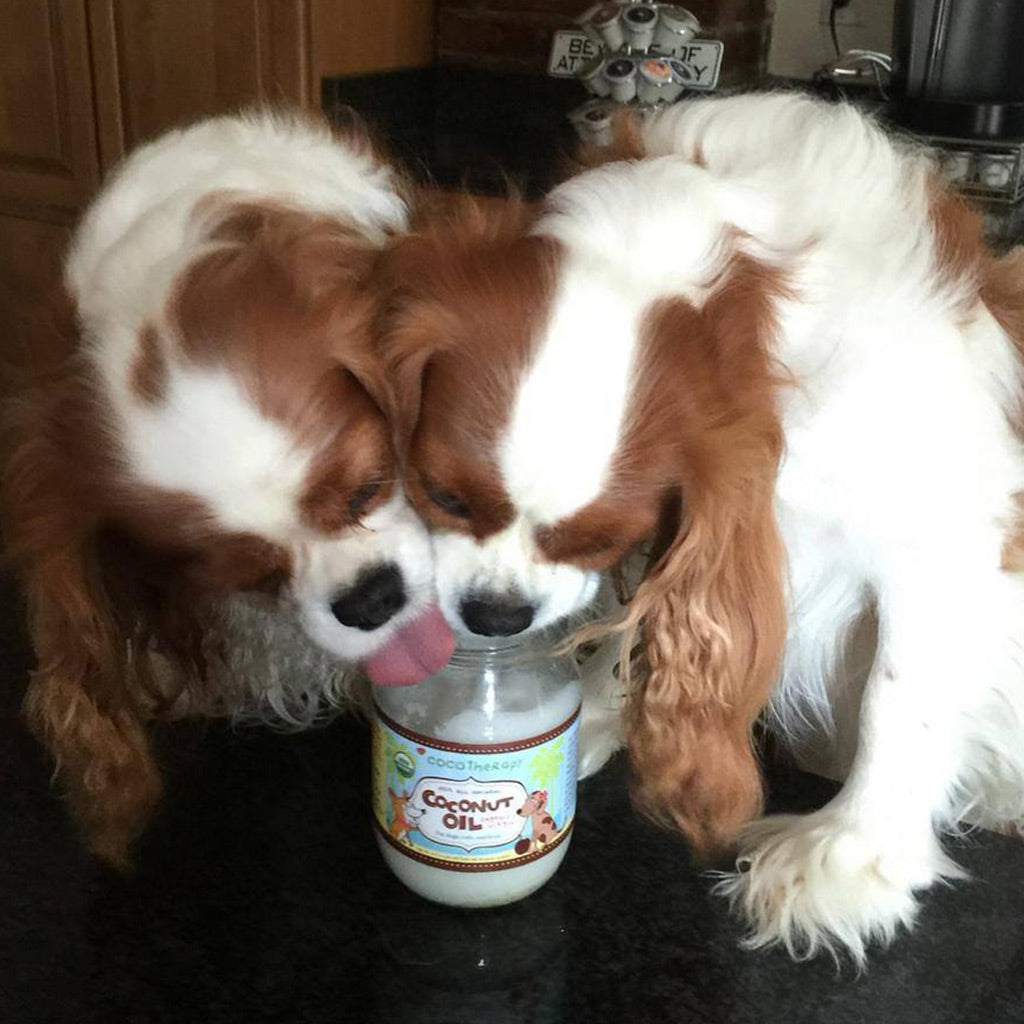 Coconut Lovers Health Pack - Organic Coconut Chips & Virgin Coconut Oil (16 oz)
The most effective, best coconut for dogs, cats, and birds. Organic Coconut Chips and Organic Virgin Coconut Oil for dogs, cats, and birds works synergistically together for cats and dogs allergies, digestive issues, and more.
Contains: 1 - Organic Coconut Chips (6 oz), 1 - Organic Virgin Coconut Oil (16 fl oz)
Perfect for the true coconut lover, the Coconut Lover's Health pack offers the foundation of CocoTherapy's premium coconut products, one 16 oz CocoTherapy Organic Virgin Coconut Oil and one 3 oz CocoTherapy Organic Coconut Chips. All our coconut oil and coconut chips products are 100% human-grade made in our family-owned facility that strictly manufactures only coconut products.
Our CocoTherapy Organic Coconut Oil for dogs, cats, and birds is made from the purest, fresh organically grown coconuts from our USDA certified organic coconut farm.
CocoTherapy Organic Virgin Coconut oil is 100% pure and natural:

The only veterinarian-recommended therapeutic-grade organic Virgin Coconut Oil for pets on the market


Non-GMO (genetically modified organism)

Cold pressed

Hexane-free

Unrefined

Non-bleached

NO trans fat

NO hydrogenated fat
Coconut oil good for dogs, cats, birds, and other furry pets too! Learn more about benefits of coconut oil for dogs, and all your pets.
Ingredients: Organic virgin coconut oil
Net Weight: 16 oz (475ml)
Calorie Content:

40 kcal in 1 tsp (4.5 g)

120 kcal in 1 tbsp (13.6 g)
Our organic CocoTherapy Coconut Chips are made from dehydrated organic coconut meat. The dried coconut flakes are made of pure, 100% organic coconut meat, with absolutely NO sugars, salt, preservatives, or chemicals added. Our organic coconut chips are raw and dehydrated slowly at a low temperature, 98.6° F (37° C). This keeps the nutrients intact, resulting in a raw coconut that tastes fresh, has a wonderful texture, and contains all the rich nutrients found in fresh coconuts.
Benefits of Coconut Chips:

The only veterinarian-recommended organic Coconut Chips for pets on the market


Rich source of dietary fiber

Supports digestive and intestinal health

Supports healthy weight management
Ingredients: Raw, dehydrated organic coconut
Net Weight: 6 oz (170g)
Calorie Content (calculated):

Metabolize Energy: 4,485 kcal/kg

2.2 kcal in 1 tsp
As always, before giving any new treat or supplement, talk to your holistic veterinarian about incorporating coconut oil and coconut into your pets' diet.
I decided to try the coconut oil for my cat's skin issues….hot spots and excessive licking. It seems to be really helping both issues and my cat loves it! I put it in with his food and then he licks the excess off the spoon. For some reason, though, he will not eat the coconut chip treats. I've tried them crumpled in his food and by themselves and he just won't eat them. 🤷‍♀️
Linda
My Angel she loves coconut chips and treats and oil.
Above & Beyond the highest quality coconut-based products!!
When it comes to my dogs and macaw, I take excellent care of them and always research everything before I make a purchase. I am happy to say that my research led me to purchase CocoTherapy's products and I am very pleased with every aspect of the products. I will continue to purchase from CocoTherapy for my beloved animal companions, especially because they love the taste and I know their overall health and well-being is improving, for sure!!!
Magical coconut topper
They go crazy for a few in a dish or if combined with their dinner.
It helps their coat with shine and shedding as well as the medicinal aspects of it. They literally love this.
My dogs are addicted to these!
My dogs love these oil and chips. I add it to their food or give it to them throughout the day as treats. Its a great combination when used together. I don't know how they work, but one of my dogs is constantly "constipated", but the other has "soft" stool. These products actually helped both dogs, firming up my one dog's poop and also made my other dog more "regular" and she doesn't stain so much. Not sure how they can help both issues, but they say it's great for digestive health, and it's true! These are truly miraculous products and I even add them to my smoothies and oatmeal for my digestive health as well!
Coconut Lovers Health Pack
I have been using both of these products for a couple of years. The health pack is a savings and it came at the perfect time that I needed to buy. CoCo Therapy's products are fantastic and my dog and grand dog love the products. I would highly recommend trying the products this company makes.
coconut products for my dog
I have purchased these 2 items before for my dog and she absolutely LOVES them!
I give her a couple of teaspoons of coconut every night and shred some of the flakes over her food. I just say "coconut" and she comes running....likes to lick it out of the jar too! Great product and it has helped her itchy and scratching - has a shiny coat too! Highly recommend..............