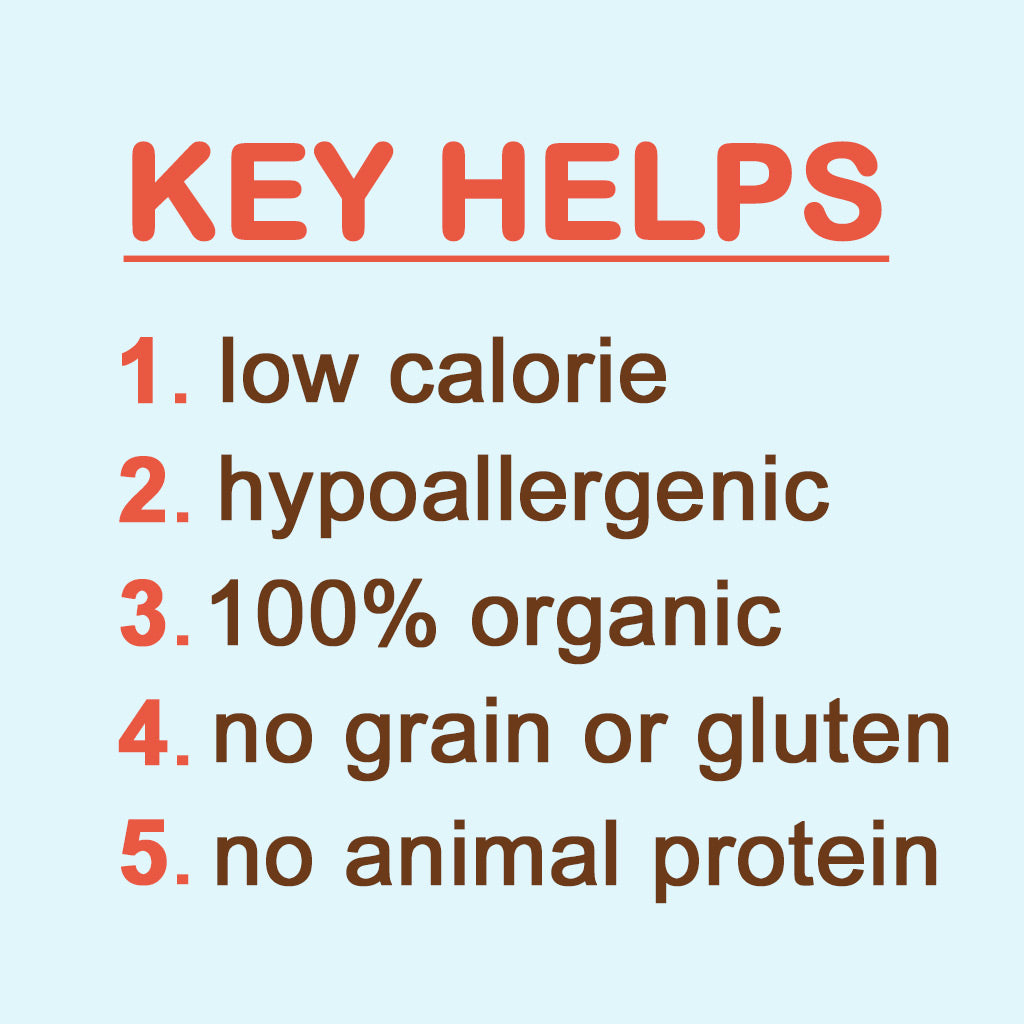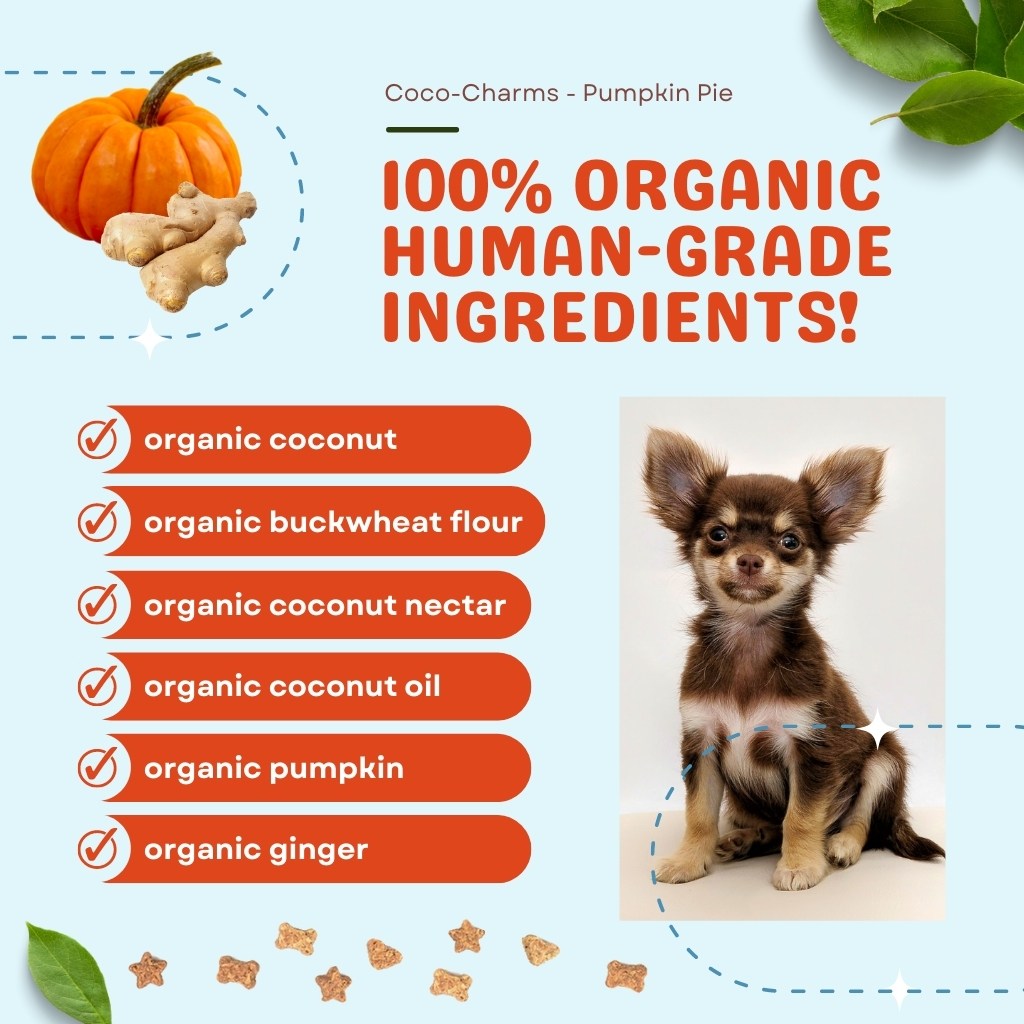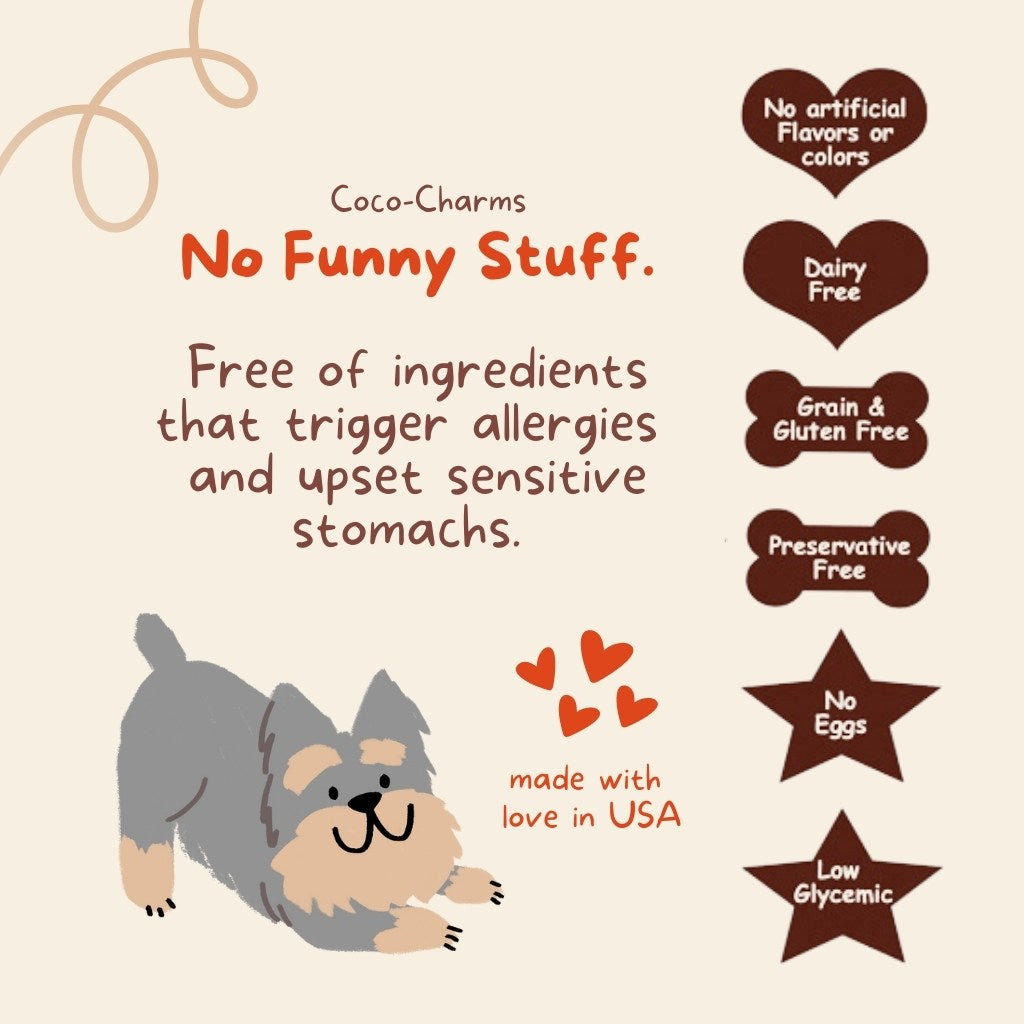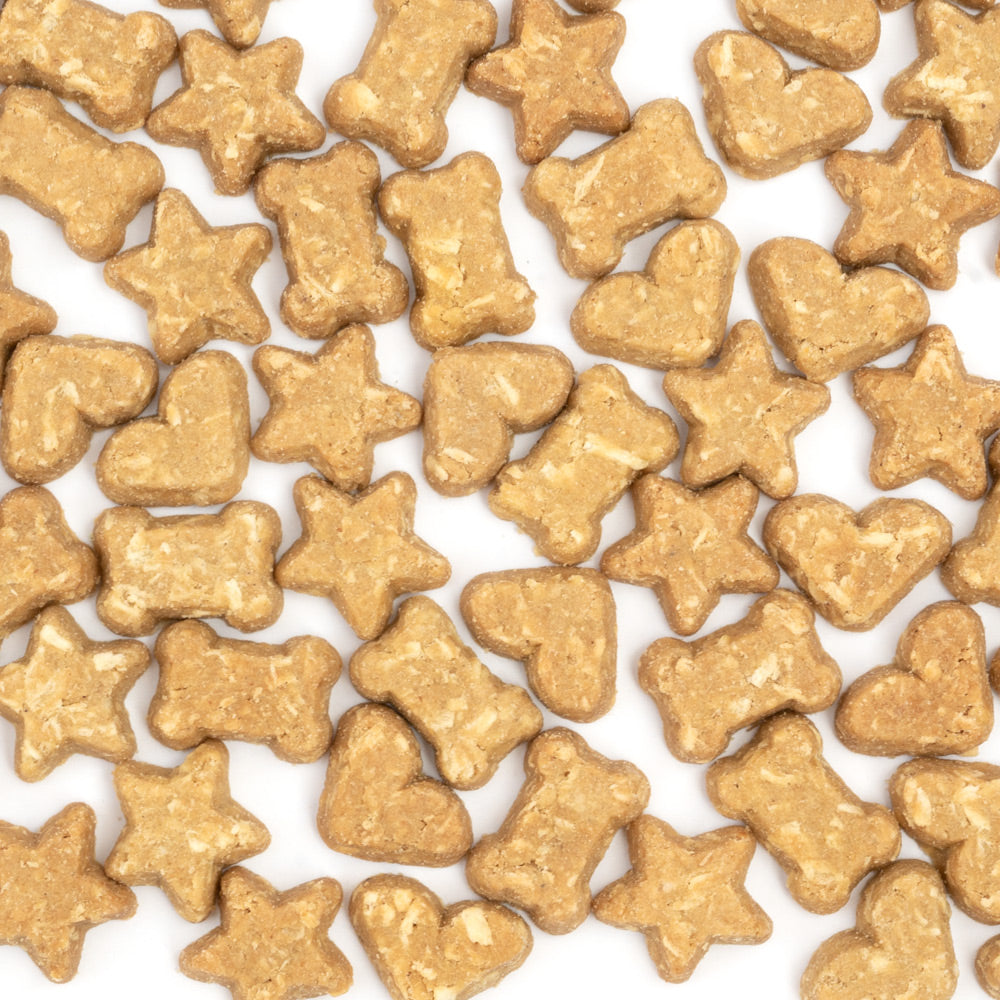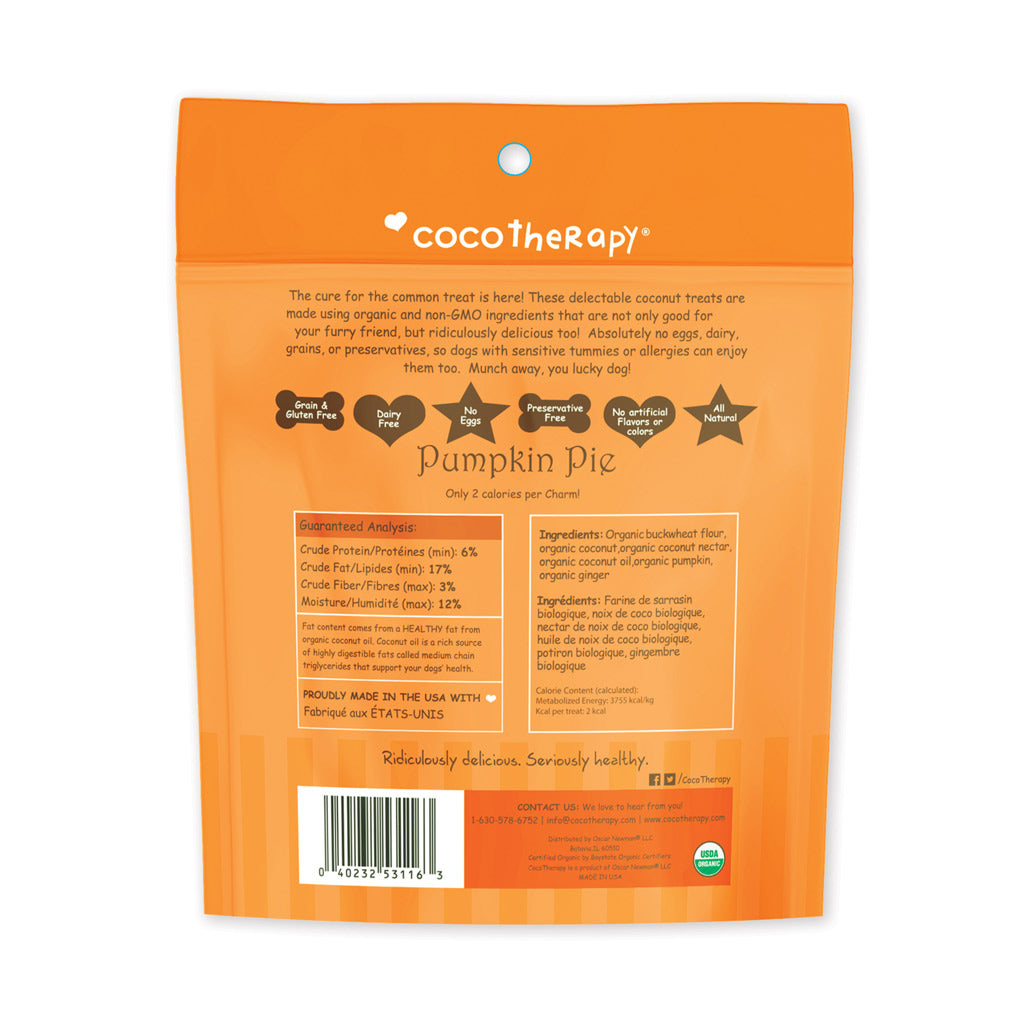 Coco-Charms Training Treats Pumpkin Pie - Organic Training Treat for dogs
Thanks for signing up for restock notifications!
There was an error signing up for restock notifications. Please try again.
This item is out-of-stock. Email me when available.
The organic training treat for dogs, Coco-Charms Training Treats are made of organic coconut and coconut oil for dogs. Coconut for dogs is a hypoallergenic, healthy ingredient, with raw coconut oil for dogs skin and overall health. A truly delicious, healthy organic dog treat!
Contains: 1 package of Coconut Pumpkin Pie Training Treat for dogs

Perfectly sized for training, small dogs, or figure-conscious dogs! Coco-Charms™ Training Treats for dogs are made using 100% organic and non-GMO ingredients, organic coconut and coconut oil for dogs that are not only good for your furry friend, but ridiculously delicious too!  Absolutely no eggs, dairy, grains, or preservatives, so dogs with sensitive tummies or allergies can enjoy them too.
CocoTherapy Coco-Charms Training Treats for dogs are vegan, grain and gluten free, dairy free, no eggs, and made with no preservatives, colors, or artificial flavors. This means dogs with allergies and sensitive tummies can enjoy them and benefit from them as well!
Coco-Charms Training Treats for dogs are a truly beneficial treat:
Supports digestive health – coconut fiber has been shown to support digestive health and provide the healthiest form of fiber

No animal protein. Excellent for dogs on a limited protein diet or single source protein diet (ie: dogs with kidney, liver issues, or allergies).

Supports skin and coat health
Supports healthy weight
Pure, simple ingredients
Tiny size perfect for small dogs, training and figure-conscious dog
Ingredients: organic buckwheat flour, organic coconut, organic coconut nectar, organic coconut oil, organic pumpkin, organic ginger.

All ingredients are 100% human grade, 100% USDA certified organic, and non-GMO.
Net Weight: 5 oz (141 g) Comes in a re-sealable pouch.
Calorie Content (calculated):

Metabolizable Energy: 3,755 kcal/kg

1 treat: approximately 2 kcal
MADE IN THE USA.
Pumpkinlicious!!!!
My Miniature Poodle, Phoebe, LOVES these Coco-Charms treats!! I have been using these for potty training and tricks training her. They were recommended by Dr. Judy Morgan, and that is the reason why I purchased them.
Best ever!
Best treats, hands down! Having 3 dogs who all have their health issues, it's so nice to count on these treats to be the best for my doggos. I will continue to purchase!
Excellent product
Coco LOVES these treats and I love they are organic and tiny.
Love these little treats
I've been buying these for a while from other sites, and am glad to have found a better deal here. The dogs love them and I love that they're healthy and smell amazing and are tiny enough for a quick low-fat treat.
My fur babies love these and they are healthy too!
My dogs love these treats. I order frequently because I don't want to be without them for my babies. They are healthy treats and I am very particular about that. I highly recommend them.
Perfect size treat for small dogs, and only 1 calorie ❤️
Great for small dogs!
I have two Chinese Crested powderpuffs- about 13-15 pounds, and they love these treats! They are a great size for them and we like them because we don't have to break them apart like larger treats and get crumbs everywhere! My dogs also have food sensitivities and these treats agree with them!