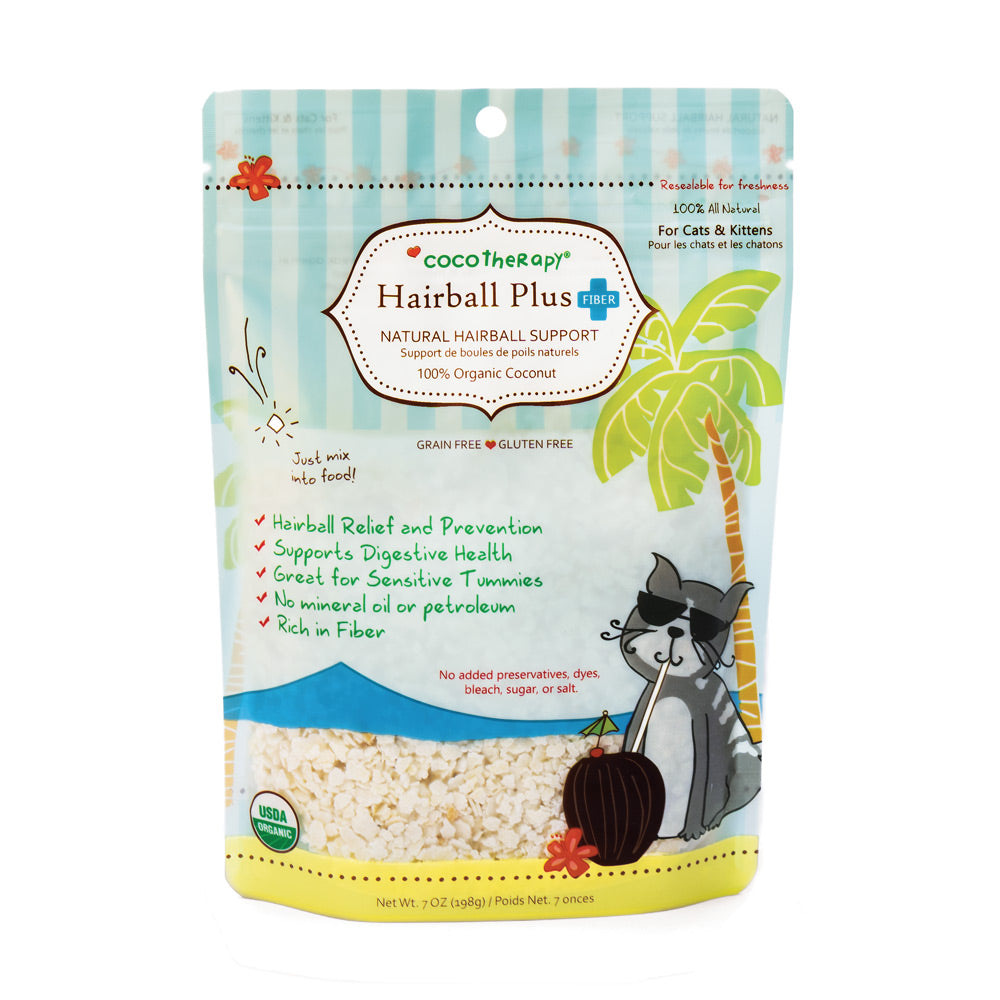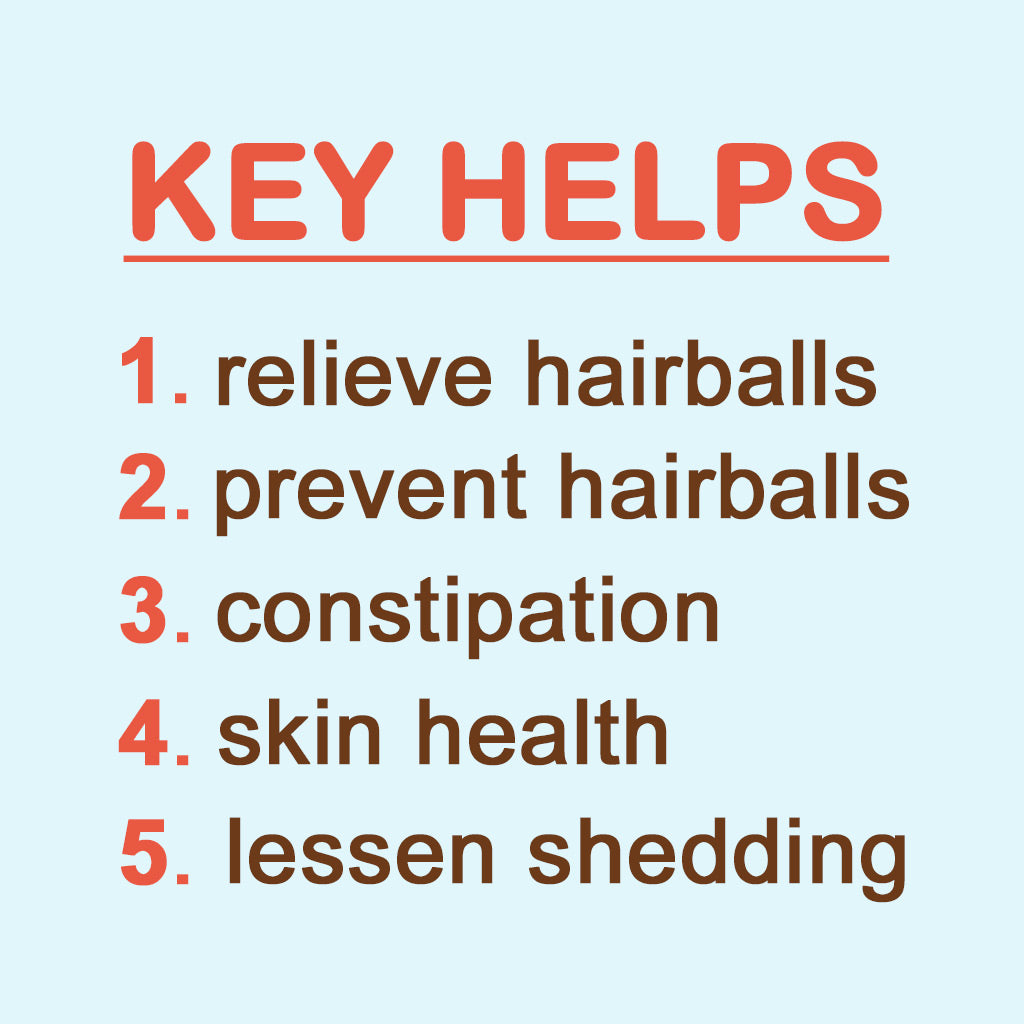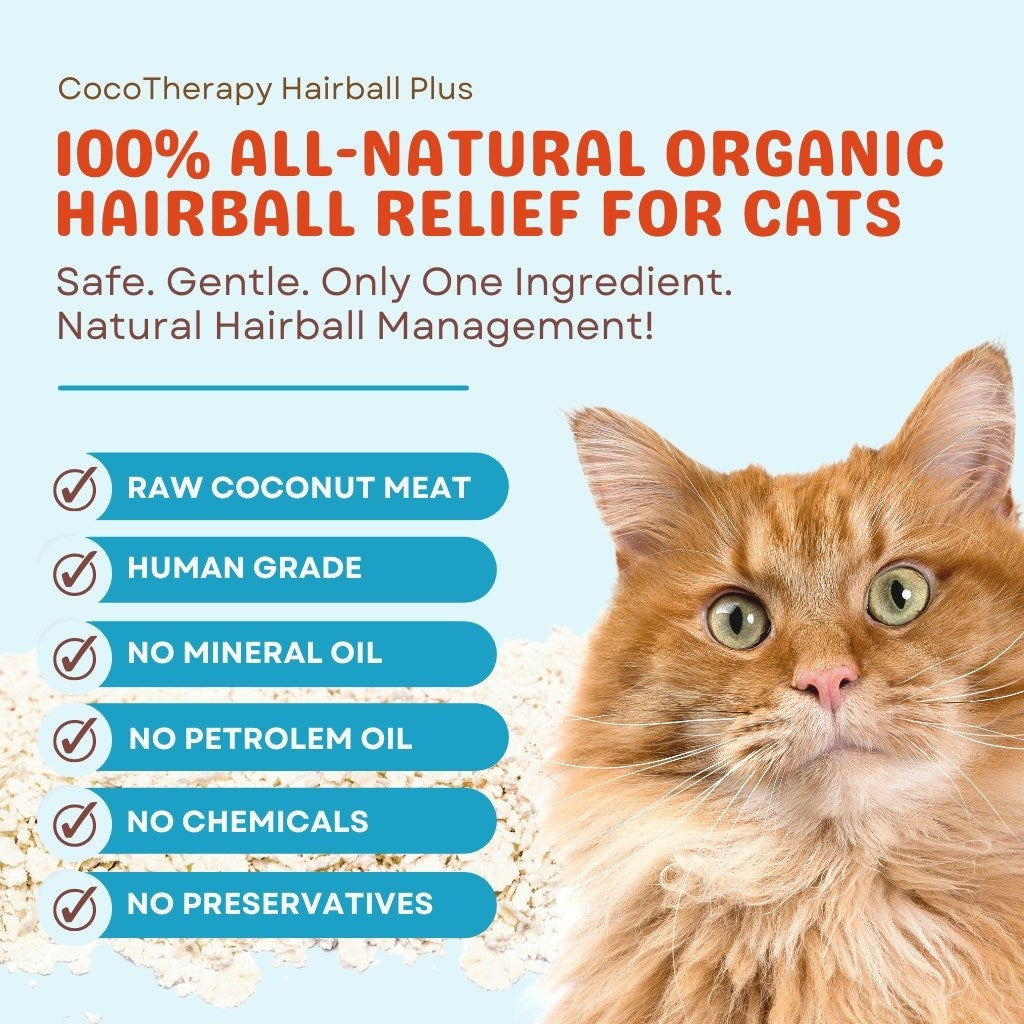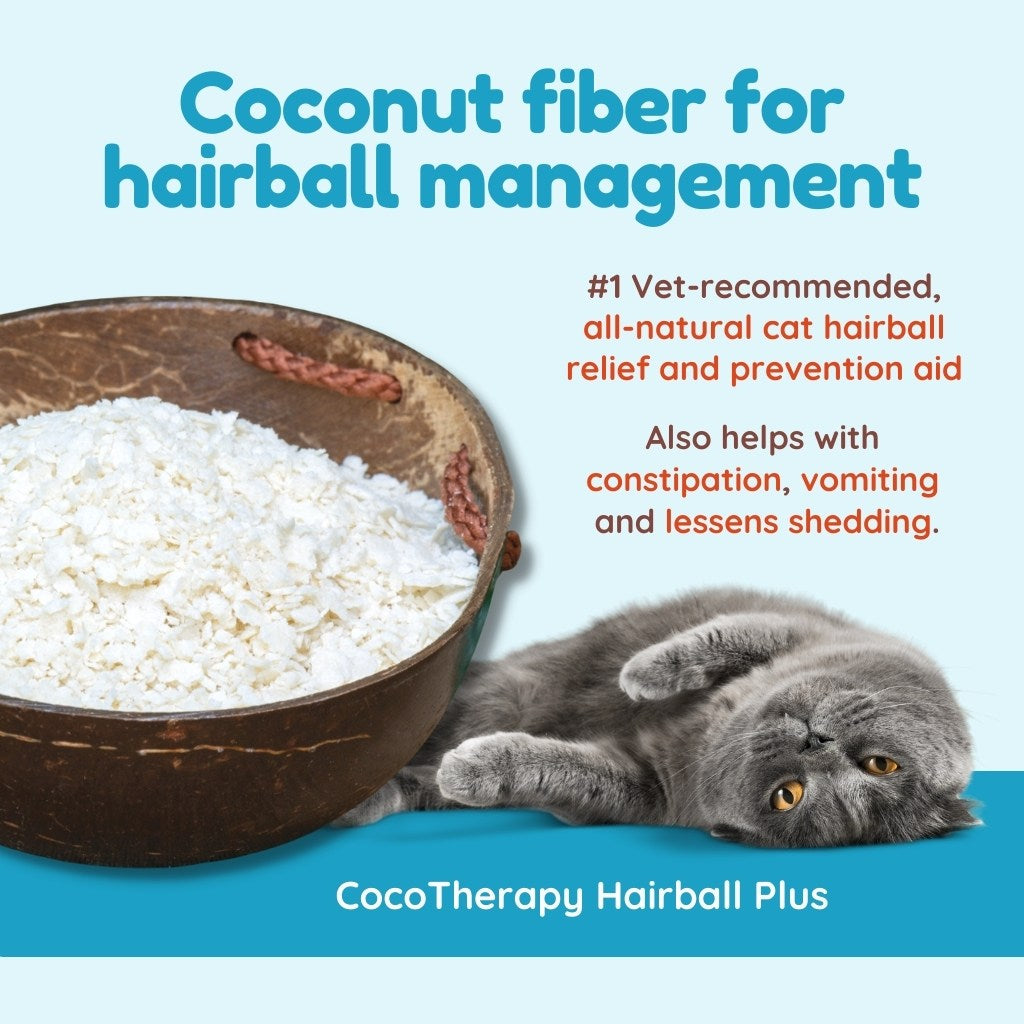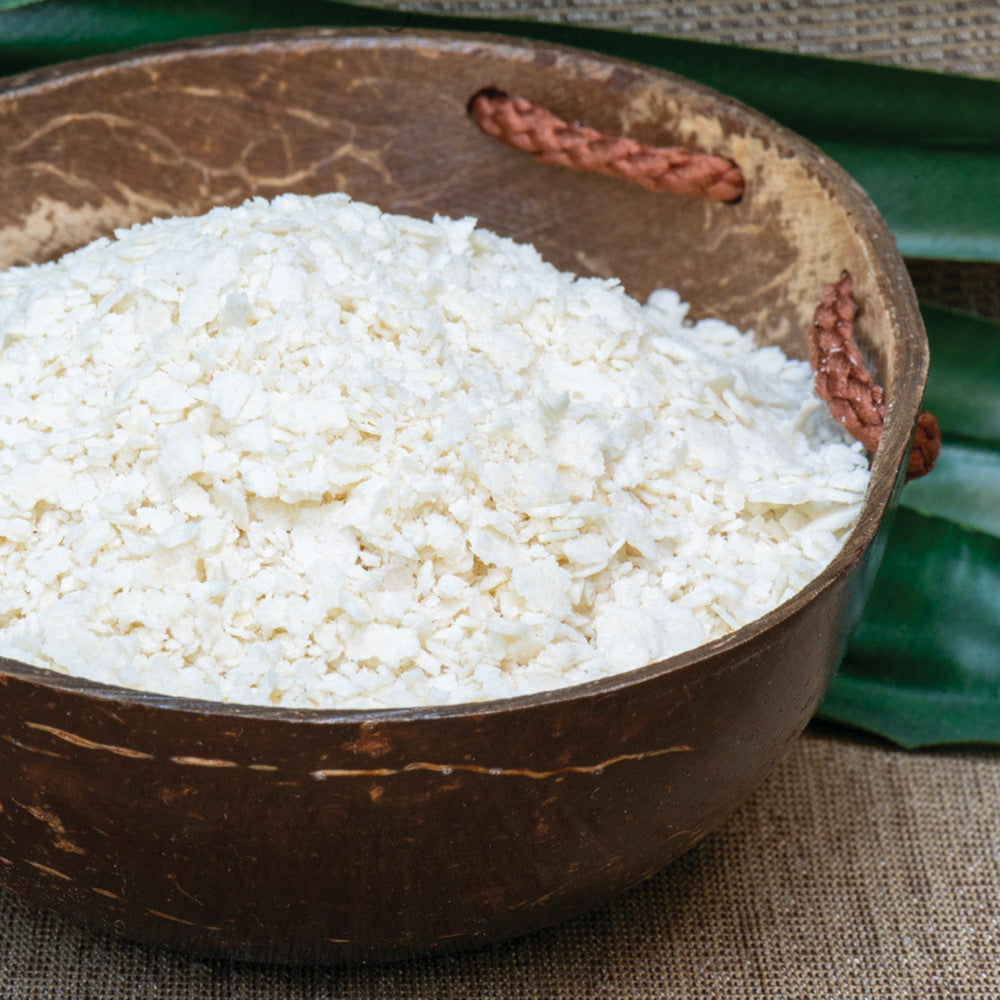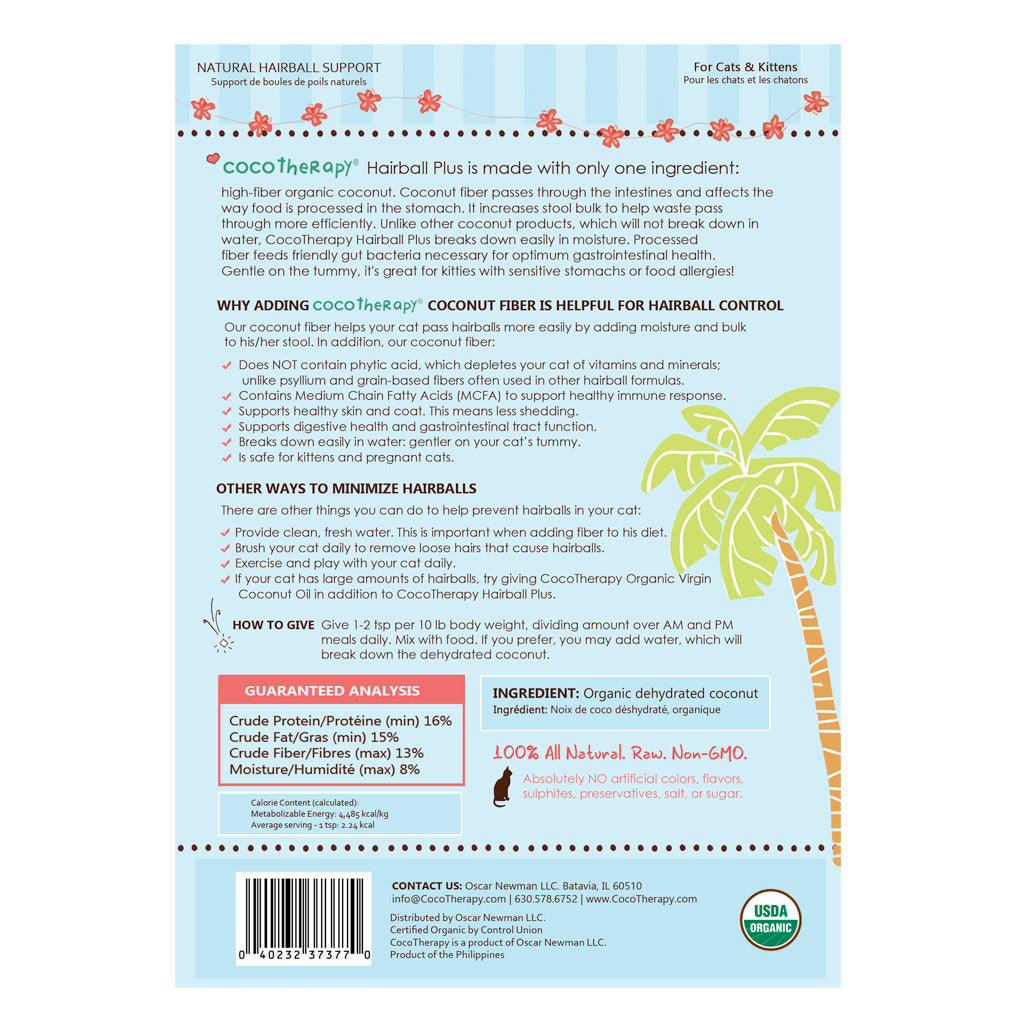 Organic Hairball Plus - Hairball management for cats & kittens
Thanks for signing up for restock notifications!
There was an error signing up for restock notifications. Please try again.
This item is out-of-stock. Email me when available.
CocoTherapy CAT HAIRBALL PLUS™ is the safest, gentlest organic hairball remedy for cats and kittens. #1 veterinarian-recommended hairball remedy, it is the best coconut for cats, and helps support cats digestive health. 
HAIRBALL PLUS™ is made with only one ingredient, high-fiber organic coconut. It contains NO artificial ingredients, preservatives, and fillers, so you can feel good giving it to your kittens and cats -- even those with sensitive stomachs or food allergies! Coconut fiber passes through the intestines and has a much greater impact on intestinal transit time. It increases stool bulk to help waste pass through more efficiently.
In addition, coconut is good for cat constipation, cat vomiting, and coconut cat skin health. 

CocoTherapy Hairball Plus is different from other coconut products: Unlike other coconut products which will not break down in water, CocoTherapy Hairball Plus breaks down easily in moisture, feeding friendly gut bacteria, thereby producing Short-Chain Fatty Acids that are necessary for optimum gut health.
WHY COCONUT FIBER?
Our coconut fiber is rich in fiber: 93% insoluble fiber and 7% soluble fiber. Not only is it beneficial for managing hairballs; it also benefits your cat in several ways:

Helps your cat pass hairballs more easily by adding moisture and bulk to his/her stool

Does NOT contain phytic acid, which depletes your cat of vitamins and minerals; unlike psyllium and grain-based fibers often used in other hairball formulas

Contains Medium Chain Fatty Acids (MCFA) to support healthy immune response

Supports healthy skin and coat. This means less shedding

Supports digestive health and gastrointestinal tract function

Supports healthy weight

Safe for kittens and pregnant cats

Safe for long-term use
CAT HAIRBALL PLUS™is:

Raw & vegan

Grain & gluten free

Dairy free

No Trans Fat

No preservatives, colors,  salt, or sugar

No sulfites

No mineral oil and petroleum

Breaks down easily in water (unlike other dehydrated coconut products)

100% Human-grade

100% USDA certified organic

Non-GMO
TIPS TO MINIMIZE HAIRBALLS
There are other ways to help prevent hairballs in your cat:

Provide clean, fresh water. This is important when adding fiber to his diet.

Brush your cat daily to remove loose hairs that cause hairballs.

Exercise and play with your cat daily.

If your cat has large amounts of hairballs, try giving CocoTherapy Organic Virgin Coconut Oil™ in addition to CocoTherapy Hairball Plus.
HOW TO GIVE: Give 1-2 tsp per 10 lb body weight, dividing amount over AM and PM meals daily (.83 grams of fiber in 1 tsp or 1.67 grams of fiber in 2 tsp). Can be mixed with water, tuna water, clam juice, or your cat's favorite wet snack. When added to liquid, Hairball Plus will break down into a cream of wheat consistency.

NOTE: This is a natural, organic product. Variations in color will occur and is normal, as we do not use bleach or hexanes to keep the products "white".
Packaging: 7 oz/198g resealable foil pouch. The pouch has approximately 50 - 1 teaspoon servings.
Calorie Content (calculated):

Metabolize Energy: 4,411 kcal/kg

2.2 kcal in 1 tsp
As always, before giving any new treat or supplement, talk to your holistic veterinarian about incorporating coconut oil and coconut into your pets' diet.
Great for constipation!
Great for constipation! My two cats have been suffering from constipation for two months now and within the first week of giving them hairball plus, They are becoming regular. Other remedies had a bad taste or texture, but coconut does not. Will definitely purchase again!
So far so good!
I've been feeding my 5 cats a homemade raw diet for about three months. Recently, one of my cats had to go to the vet for consitpation. On the advice of my vet, I added a fiber supplement. After some research, I chose Cocotherapy. It's been two weeks and everyone seems to be doing great. I did find I have to use a bit less than the package directions and add a bit of water to their food, otherwise the mixture is too dry and they won't eat it. Hoping this is a great long-term solution and we don't have any more $300 poops!
Great product
I have started giving this to my older (16 yrs) and she no longer gifts me with hairballs and also doesn't cry out when passing her stool. She feels better and I feel better.
Coconut
The boys didn't like the coconut. looks like i will have to eat it myself
I bought this for my cats constipation
I got this because it has a lot of fibre and I heard this product is good if your cat tends to get constipated. It worked perfectly. Thank you very much!
Great natural solution
I've been using Coco therapy almost a month now for 2 of my cats. So far I really do think it's helping with the hairballs, puking, and digestion. I don't think the cats particularly love the taste but as long as I mix it in a food they enjoy they eat no problem.
Great for our IBD kitty
We have 2 senior kitties. We got this specifically for our IBD cat to help with his hairballs and decided to give it to our other that struggles with hairballs occasionally. For our IBD kitty we had to play with the dose to get it right for him, he gets 1 tsp in the PM everyday. As long as we don't skip or do extra it works really well for him. Our other cat it was sadly a bust, no matter the dose he'd vomit the coconut itself at some point in the following 24 hours. It's still a wonderful product, it's just not the right product for every cat. The same can be said for just about anything (o=