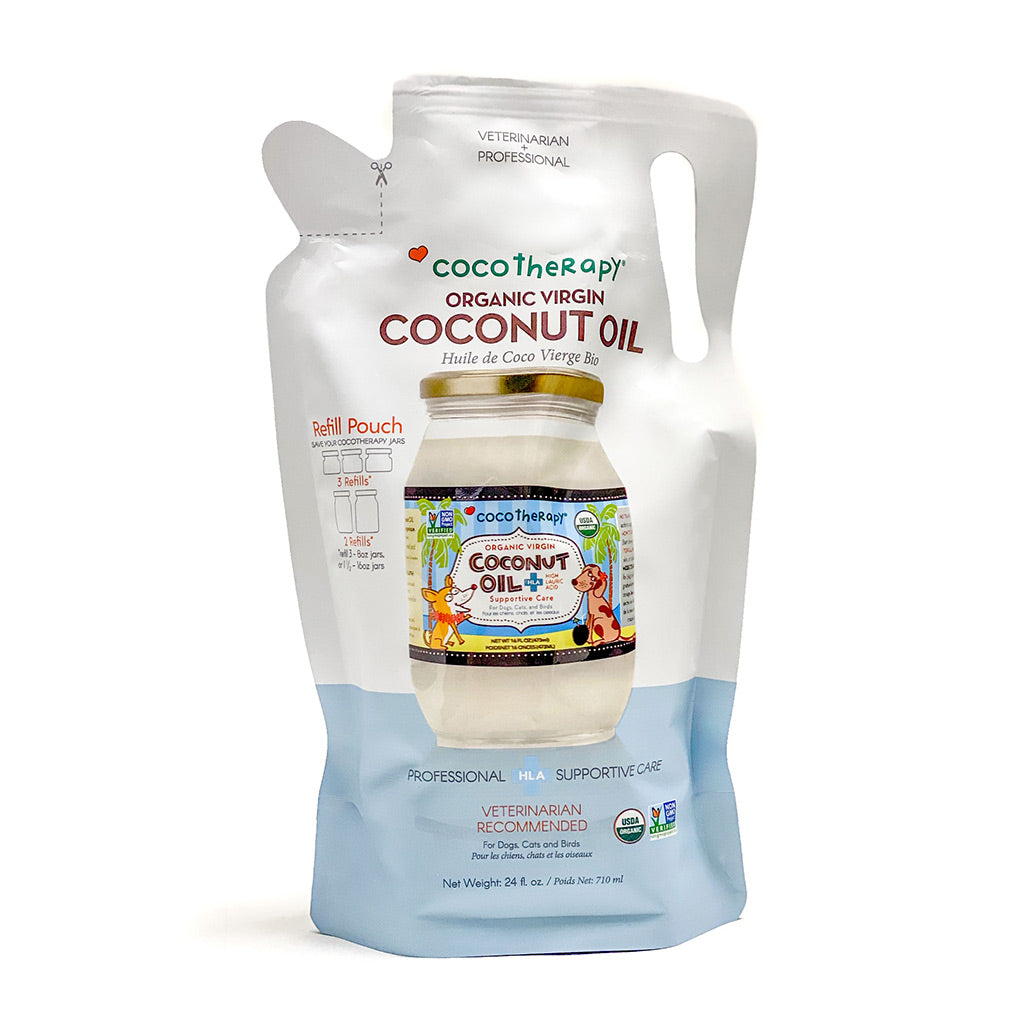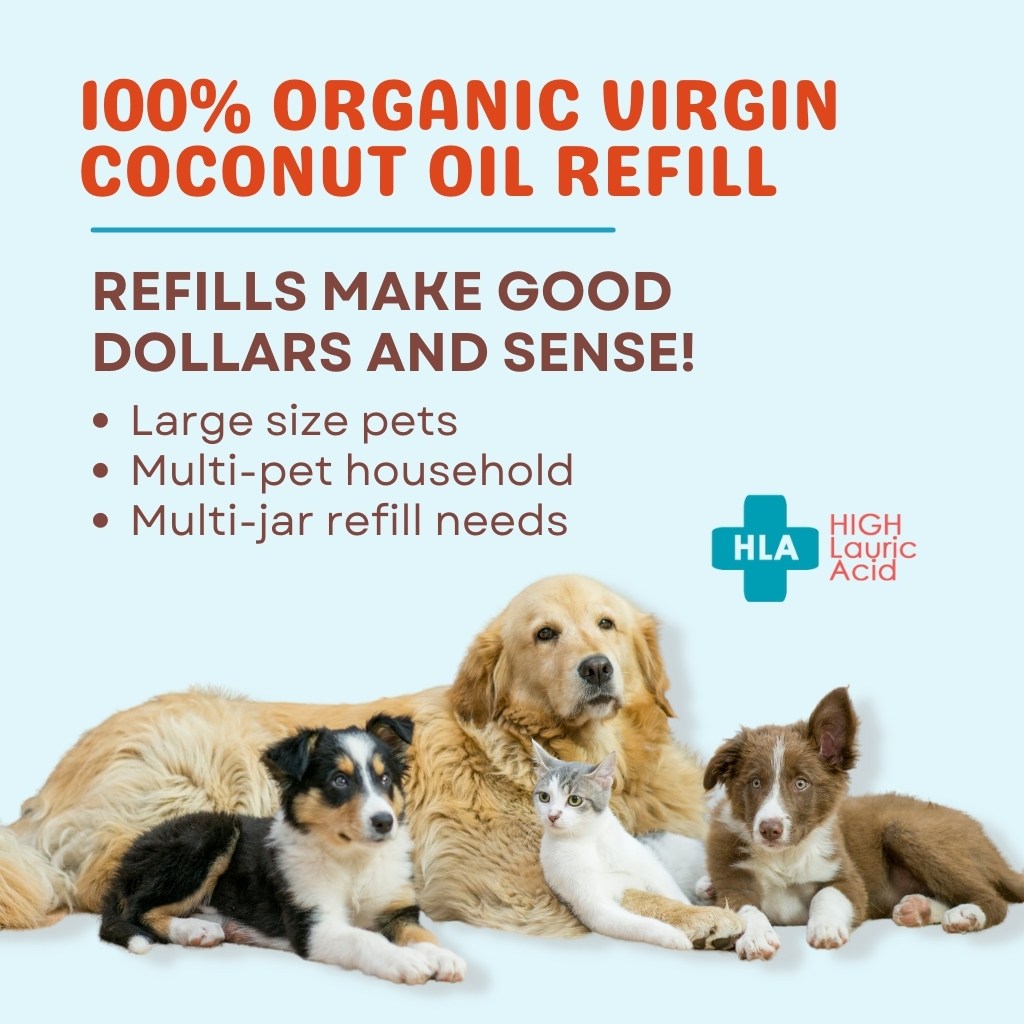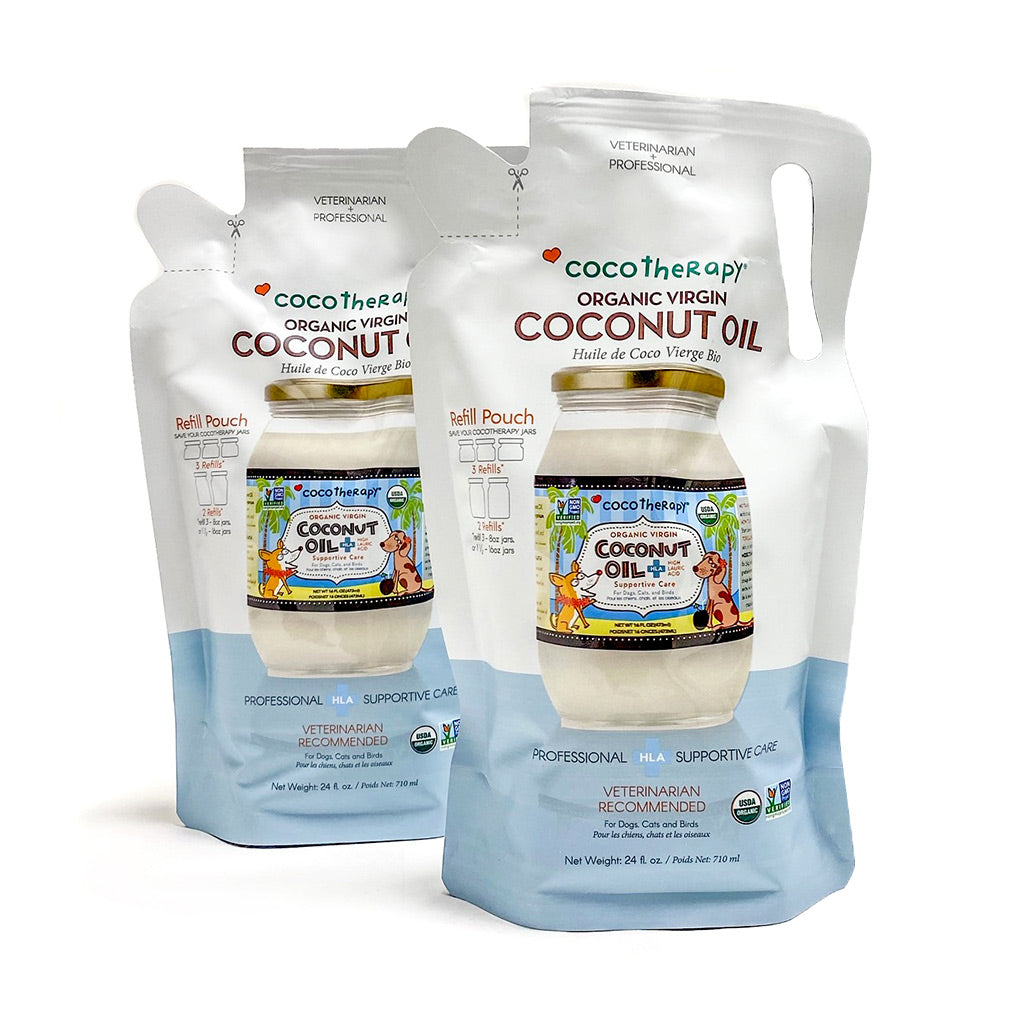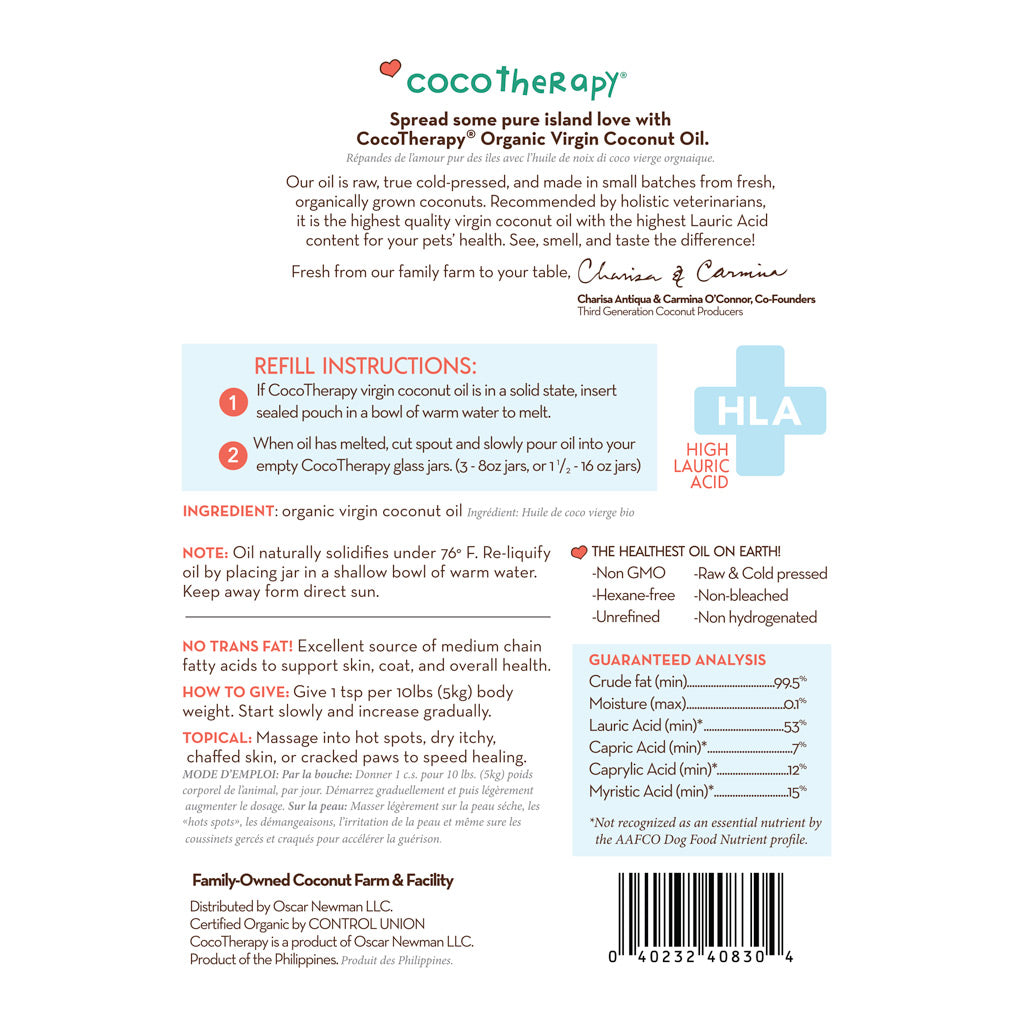 Organic Virgin Coconut Oil Refill Pouch (24 oz) - USDA Certified Organic Coconut Oil for dogs, cats, & birds
#1 veterinarian-recommended virgin coconut oil for pets. The most effective, best virgin coconut oil for dogs, cats, and birds: for dry itchy skin, dog allergies, coconut oil for dogs ears, dog yeast infections, and more!
Each order contains:
Single: 1 refill pouch (24 oz/710 ml foil pouch)

Twin Pack: 2 refill pouches (24 oz/710 ml each) Save 10%!
Four Pack: 4 refill pouches (24 oz/710 ml each)

 

Save 12%
Our bestselling Organic Virgin Coconut Oil for dogs, cats, and birds is now available in a larger, economical 24 fl. oz / 710 ml refill pouch!  Our pouch is made of eco-friendly, recyclable, food-grade foil that is kind to the environment. 
CocoTherapy
Organic Coconut Oil Refill Pouch is an excellent value and perfect for homes who use organic virgin coconut oil for everything!  Great for multiple pet households.
It can be applied topically, as well as given orally as a functional MCFA supplement. Our virgin coconut oil is 100% human-grade so we also use our premium coconut oil for ourselves – for cooking, baking, first aid, the list is endless.
CocoTherapy® Organic Virgin Coconut Oil for dogs, cats, and birds is made from the purest, fresh organically grown, non-GMO coconuts. The coconuts are grown in our family-owned coconut farm, and processed in our organic facility. Due to the unique properties of our coconuts and our processing methods, CocoTherapy is a therapeutic grade virgin coconut oil with the highest levels of MCFAs, Lauric Acid. It is the #1 brand most recommended by integrative veterinarians.
CocoTherapy Organic Virgin Coconut Oil for dogs, cats, and birds is pure and natural:

The only veterinarian-recommended therapeutic-grade organic Virgin Coconut Oil for pets on the market

100% pure, no chemicals or preservatives

Non-GMO (genetically modified organism)

USDA Organic Certified

Human-Grade

Raw

True cold-pressed below 100F

Unrefined

Hexane-free

Non-bleached

NO trans fat

NO hydrogenated fat
Our VCO and MCT oils are made from 100% certified-organic, Non-GMO verified coconuts. Since our products are unprocessed (100% natural, raw, unfiltered, without bleach, heat or chemicals) each batch will have slight variations. Based on spectrophotometer color measurements which checks the color and clarity of our coconut oils, the variations fall within the acceptable color/clarity tolerance required for the purest virgin coconut oils. This color variation is not a concern from a food safety aspect and the efficacy of the oils is not affected.
Coconut oil good for dogs, cats, birds, and other furry fur-kids! Learn more about benefits of coconut oil for dogs, and all your pets.
Our 24 oz Virgin Coconut Oil Refill Pouch is Perfect for:

Multiple pet households

Large dogs

Professional Use: Groomers, Breeders, Boarding Kennels

Veterinarians
To dispense:
1. Place un-opened foil pouch in a bowl of warm water until coconut oil is liquefied.

    DO NOT MICROWAVE FOIL POUCH
2. Cut pour-spout following printed cut-guide.
3. Pour in a clean, dry glass jar.

TIP: Fills 3 – 8 oz oil jars or 1.5 – 16 oz. oil jars.
Recommended amount to give: 1 teaspoon (5ml) per 10 pounds (5kg) of body weight, or 1 tablespoon (15ml) per 30+ pounds (13.6 kg) of body weight. Start slowly, for example, start at a quarter of this and build up slowly. Use similarly for cats and other animals.
Calorie Content:

40 kcal in 1 tsp (4.5 g)

120 kcal in 1 tbsp (13.6 g)
Our favorite way to give: Simply place a tsp or so in the cupped palm of your hand and let the warmth of your hand melt the oil. Then let your pet lick the oil directly from your hand! Our pooches and kitties love it, and what a wonderful way to bond! As with all new supplements, start with small amounts, such as 1/8 - 1/4 teaspoon per day for small dogs, puppies, cats and kittens and 1 teaspoon for large dogs. Gradually increase the amount every few days.
Packaging: 24 fl. oz / 710 ml Stand-up foil pouch
As always, before giving any new treat or supplement, talk to your holistic veterinarian about incorporating coconut oil and coconut into your pets' diet.
Coconut oil refill pouch
We rotate this oil with sardine oil so we do not overload on just using one product repeatedly. We love it, feed it and use it for anything skin as well. We love it!
Refill pouch
So economical
It was warm out so when I got it I was able to fill my jar right away.
Best Quality
After looking into CocoTherpy extensively, it is the only coconut oil I will consume. It has a superior taste, and fruity smell. I love it, and my furbaby loves it. Thank you, CocoTherapy!
Coconut Refill Pouches
We use this as part of our frenchie's morning routine. It freshens her breath and softens her nose. So many was to use - nose, pads, scratches or cuts. It's a miracle worker!
ONLY COCONUT I USE
I have been a customer for several years. I use this coconut oil for my moisturizer, deodorant, wounds, digestion issues and treats for my dog. I will not use any other coconut oil. I've always had excellent customer service whenever I've contacted the ladies. I can not say enough good things about their product.
Thank God for Coconut Trees
I love that I'm doing something healthy for my kitties by using the coconut oil to brush their teeth. They are not thrilled with the process but in the end they forgive me!
Pets love this!
We love this and our dogs coats are amazing. I never thought our cats would enjoy it until I caught them licking the top of the container, now I add it their food too!