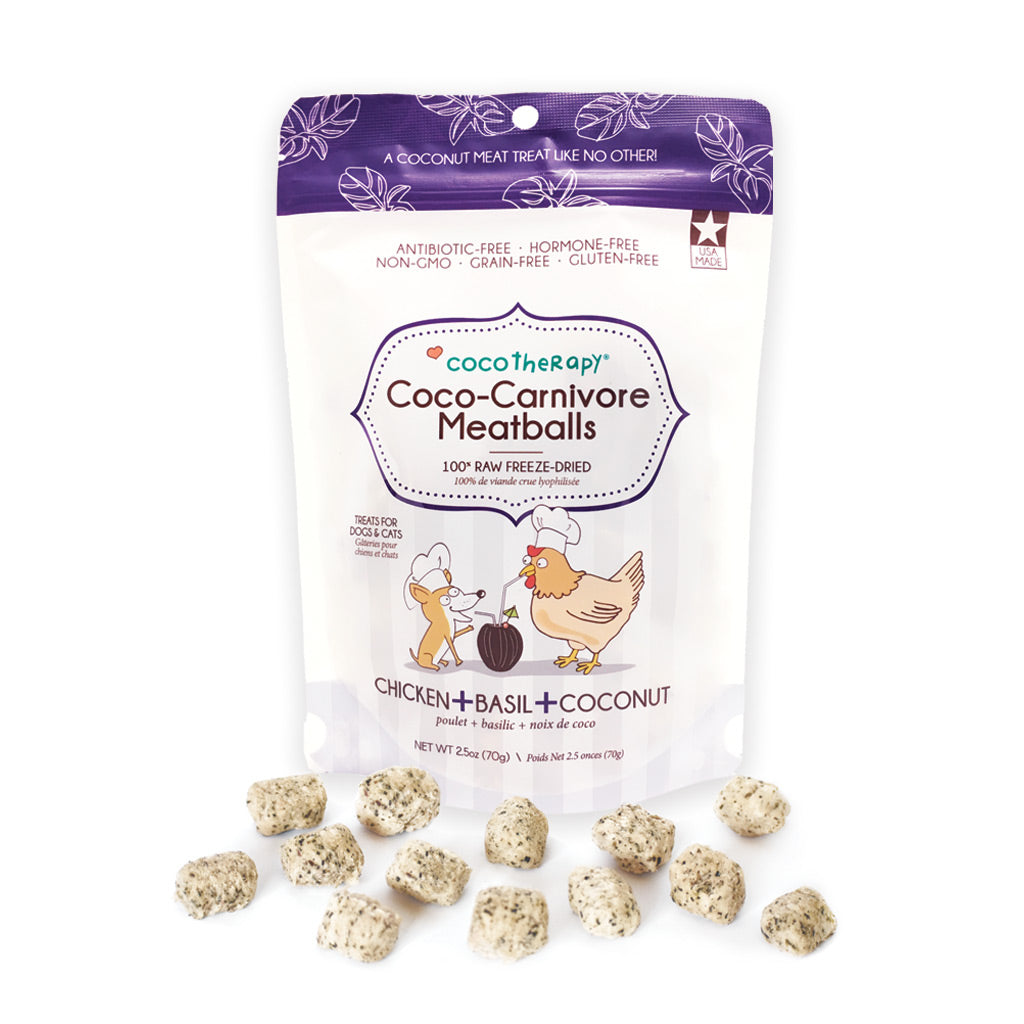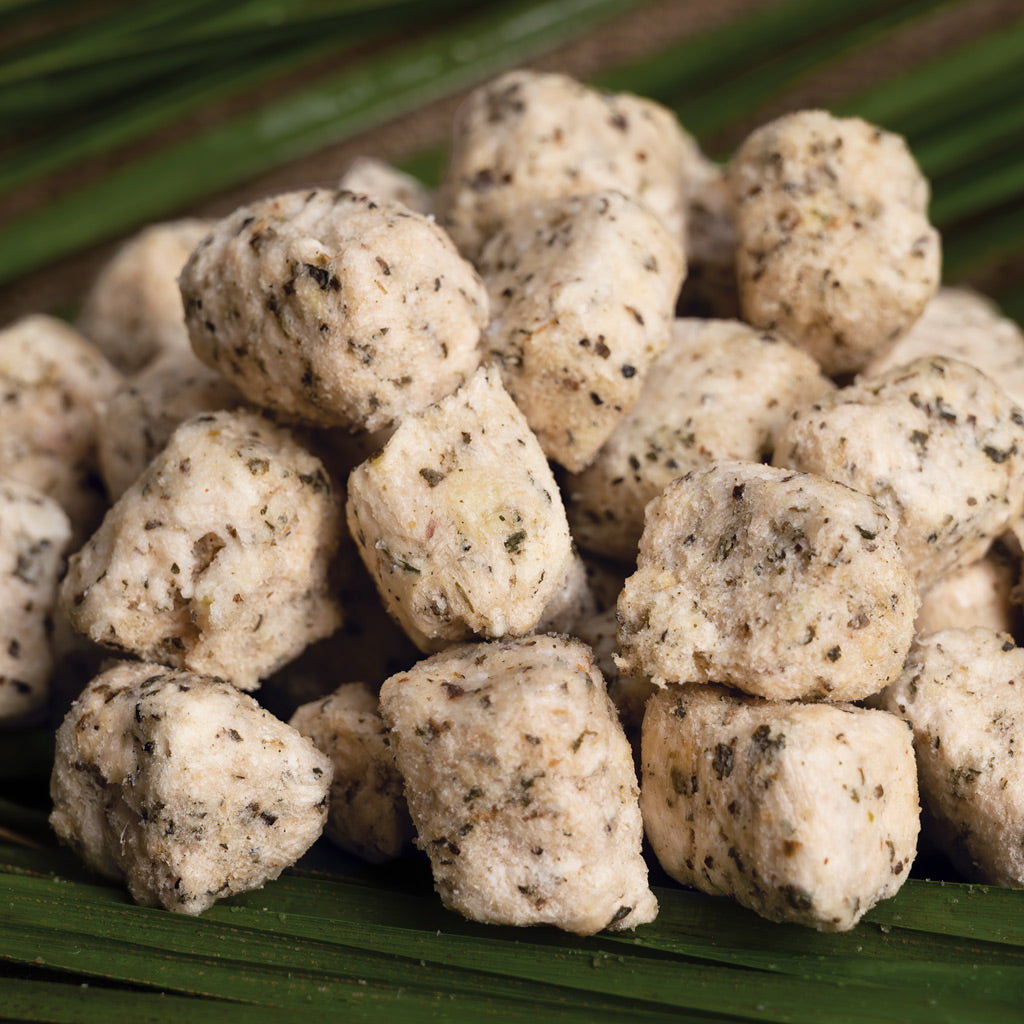 Coco-Carnivore Meatballs – Chicken + Basil + Coconut
Contains:

1 package of Coco-Carnivore Meatballs

Flavor: Chicken + Basil + Coconut
Coco-Carnivore Meatballs - Raising the bar beyond the common meat treat! Organic Coconut MEAT Treats for Dogs and Cats, made with organic CocoTherapy Coconut Chips.
The ultimate freeze-dried, RAW meat treat, Coco-Carnivore Meatballs™ is for the meat lover connoisseur. We wanted to make freeze-dried meat treats that were not only delicious, but super healthy for our pets. This meant that we only use meats that are antibiotic-free, hormone-free, and Non-GMO.
We also wanted to make sure the meats were humanely raised and ethically produced, sourced from USA farmers and producers. Then we added the extra health benefits of super-foods from fruits, vegetables, herbs, plus our CocoTherapy Coconut Chips!
Coco-Carnivore Meatballs are:
Antibiotic-free

Hormone-free

Grain & gluten free

Raw & freeze-dried
No preservatives, colors, or flavors
Humanely raised and ethically produced
Made with the finest ingredients:

100% Human-grade ingredients

Made with organic CocoTherapy Coconut Chips

No by-products

Non-GMO

Sourced from USA farmers and producers
Ingredients: Chicken breast, basil, organic coconut chips
Calorie Content (calculated):

Metabolize Energy: 2,520 kcal/kg

Average treat: 12 kcal
Is your dog a chewer or a gulper? For small dogs, or if your dog is a gulper, consider breaking up treats in small pieces when giving to prevent choking. Please monitor your dog at all times dogs when giving any treats.
Net Weight: 2.5 oz (70g) Comes in a re-sealable pouch.
MADE IN THE USA.
My girls go nuts!
This was the first time we tried the meatballs and my girls went absolutely bonkers! One of my girls only has 7 teeth left, so it can be difficult to find treats she can safely enjoy. These were firm but easily crumbled in her mouth. Will be ordering more!
Oh my goodness! Mia is adorable!! And so smart too! We're so happy to hear she loves our treats!
Meatball treats
Our mini labradoodle loves the meatball treats. They are her favorites, and she can have sensitivity to some treats.
Most favorable treat
I have purchased these for several cats over the years and every singe one of them has LOVED these treats! I like to break them in half for my kitty so that they last longer but there's a good amount in every bag. Will forever be buying these, please don't ever discontinue them!
My dogs love these Meatballs
I have three dogs, ages 1 1/2 to 12, and they beg for these treat when they come in from outside. I feel good knowing they are healthy for them.
My cat LOVES these!!
I use this as a topper, I pinch it over the wet food, and my cat loves it! He will actually ask for it. He knows where it's kept, and will sit by the drawer looking up as if you point that the treats are there.
Delish and healthy
It is hard to find healthy nongmo antibiotic free meat treats and my dogs love these! My boy dog chooses them over other treats so they must be tasty.