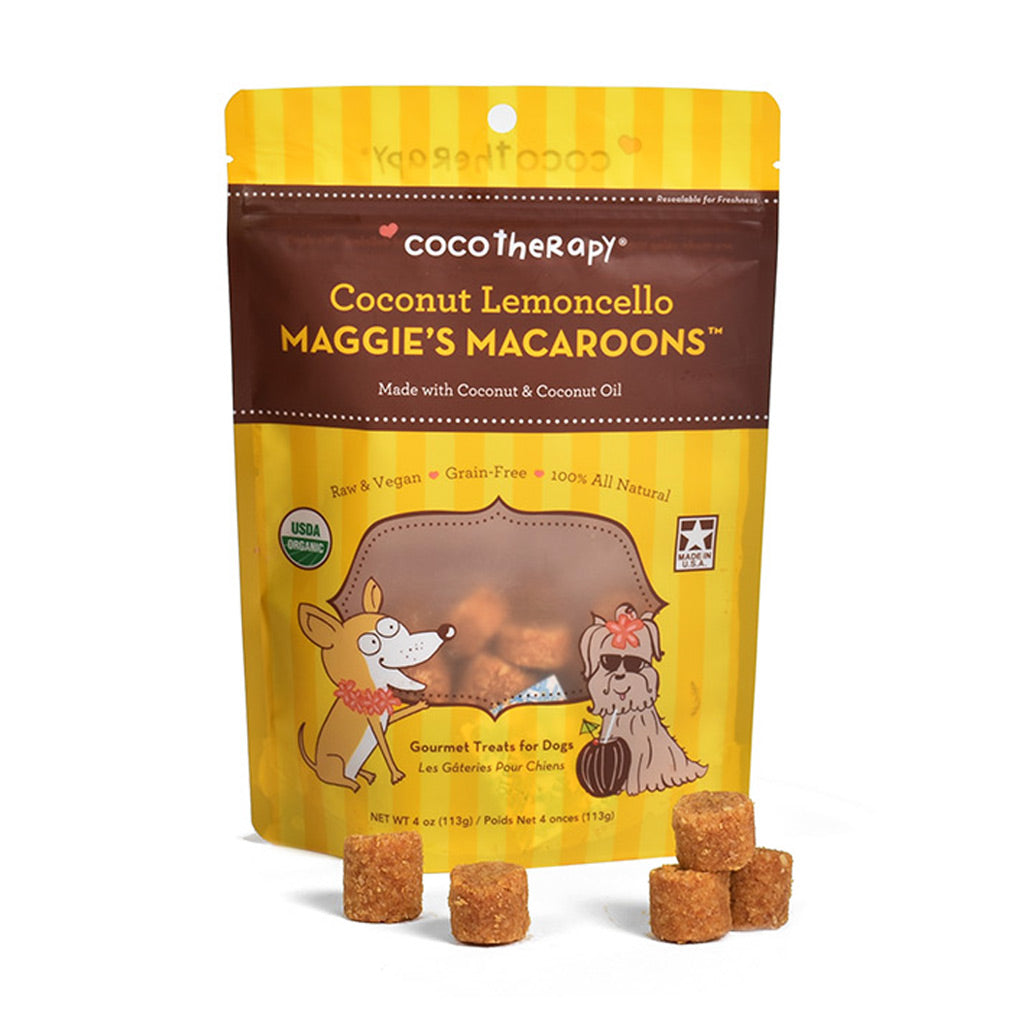 Maggie's Macaroons Coconut Lemoncello - Organic Coconut Treat for dogs
The RAW, organic dog treat, Maggie's Macaroons are made of RAW coconut and coconut oil for dogs. Coconut for dogs is a hypoallergenic, healthy ingredient, with raw coconut oil for dogs skin and overall health.
Contains: 1 package of Coconut Lemoncello
Using only pure organic ingredients, Maggie's Macaroons are RAW coconut dog treats that are nutrient dense and minimally processed. Made of organic coconut and coconut oil, these gourmet treats are not only incredibly healthy, but beneficial as well. These organic treats for dogs are RAW, vegan, grain and gluten free, dairy free, no eggs, and made with no preservatives, colors, or artificial flavors. This means dogs with allergies and sensitive tummies can enjoy them and benefit from them as well!
Maggie's Macaroons are slowly dehydrated at low temperatures, preserving the health benefits of coconut and coconut oil for dogs. These raw coconut dog treats contain the highest levels of Medium Chain Fatty Acids (MCFAs) than any other treat, because of the slow, dehydrating process. Coconut and coconut oil for dogs are excellent for skin and coat health, digestive health, and supports healthy weight as well.
MAGGIE'S MACAROONS™ are a truly beneficial treat:

Highest levels of Medium Chain Fatty Acids (MCFAs) than any other treat – because our macaroons are dehydrated and not baked, we retained high levels of MCFAs from the coconut and coconut oil.

Supports digestive health – coconut fiber has been shown to support digestive health and provide the healthiest form of fiber.

No animal protein. Excellent for dogs on a limited protein diet or single source protein diet (ie: dogs with kidney, liver issues, or allergies).

Supports skin and coat health

Supports oral health

Supports healthy weight

Provides easily digested source of energy

Supports healthy weight

Provides easily digested source of energy
Ingredients: Organic coconut, organic coconut nectar, organic coconut oil, organic lemon juice.
All ingredients are 100% human grade, 100% USDA certified organic, and non-GMO.
MAGGIE'S MACAROONS are: Raw. Grain and gluten-free. Vegan (no eggs or dairy). Do not contain trans fat, artificial colors or flavors. Low glycemic (Glycemic Load: 1).
Is your dog a chewer or a gulper? For small dogs, or if your dog is a gulper, consider breaking up treats in small pieces when giving to prevent choking. Please monitor your dog at all times dogs when giving any treats.
Net Weight: 4 oz (113g) Comes in a re-sealable pouch.
Calorie Content (calculated):

Metabolize Energy: 6,064 kcal/kg

Average treat: 43 kcal
MADE IN THE USA.
Favorite Treat
We've tried many treats and while some were just ok, Maggie's Macaroons are our favorites. We call them lemons (because the Lemoncello is our favorite) - just say the word and Yummer, our golden, comes running. We would give you 10 stars if we could. Love, love, love these treats!
Beautiful baby! We love hearing this. Thank you so much for sharing!
Hands down a fave of my Bulldogs
My guys go crazy for these. Especially the Lemoncello. All I have to do is open the bag and they run as fast as their little legs can go.
Awww, what cuties! We're so happy to hear they love their Lemoncello macaroons! It's one of our faves too! Thank you for sharing their picture!
Healthy treats for your pup!
My fur baby loves these treats! I actually use these to hide her medication in. She would probably eat this whole bag in 1 sitting if she had it her way. Love that these are a healthy treat for her with no yucky, hidden ingredients. Thank you Cocotherapy for keeping my senior pup happy and healthy!
Love!
My dogs love these Macaroons, they would probably eat the whole bag if I let them. They smell so good to, I'm tempted to eat one myself
Tarah & Captain love ❣️
This was the first time ordering the coconut lemon cello Maggie's Macaroons and they hate a huge hit with our Aussies Tarah and Captain! They love them so much. They are now expecting them when they come in from getting newspaper. I'm jealous the smell so good, I'm tempted to try one myself!
Big Thumbs Up!
I buy treats for my friend's dog who had a rough start in life and struggled with digestive issues. Having studied nutrition, I am a fan of coconut oil and am picky about the ingredients in the treats I buy for him. I was thrilled to find these contain not only coconut oil, but minimal, holistic ingredients. He gobbles them up and I try to keep a ready supply on hand. I haven't conducted an official taste test, but he enjoys all Maggie's Macaroon flavors, lemon included. Thank you for a quality product!!!
Quality ingredients!
My dog loves these treats. They smell so delicious and I know they are made with love. I will definitely always keep these on hand.