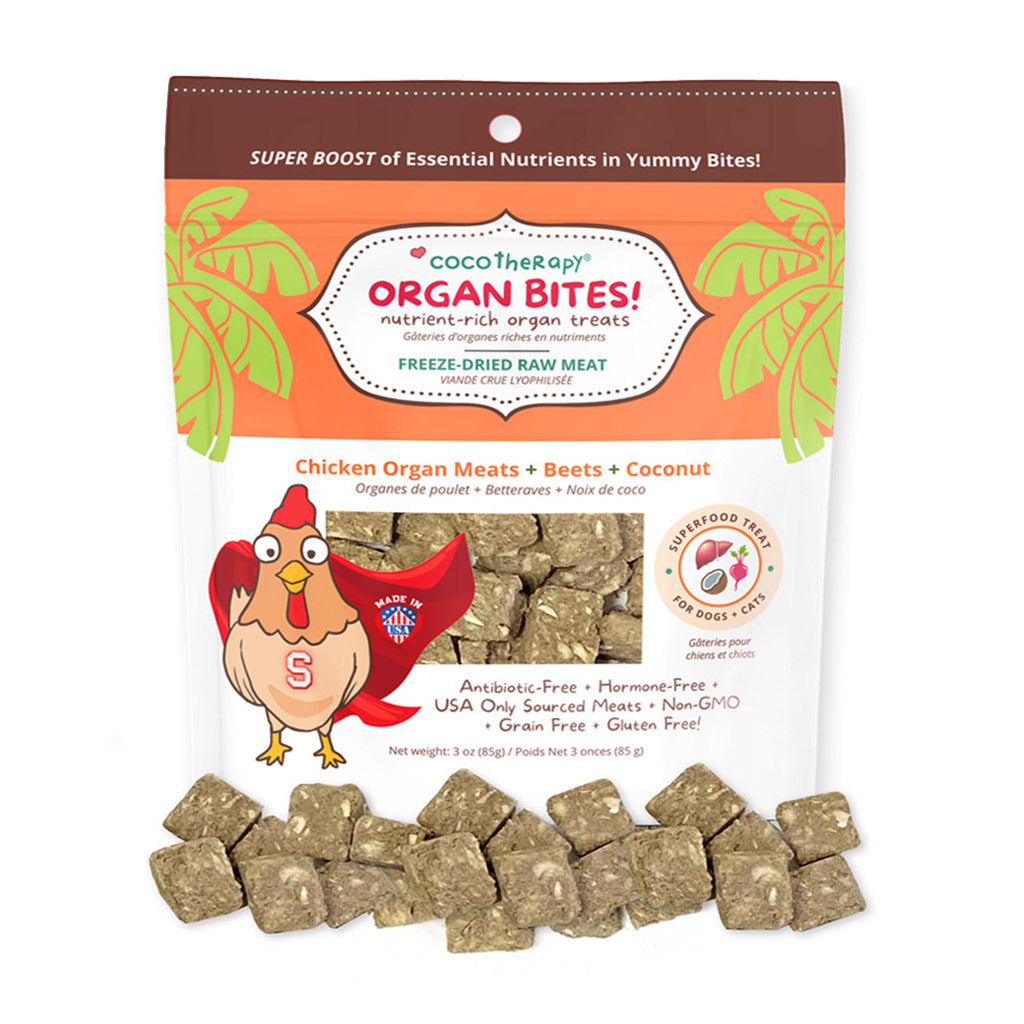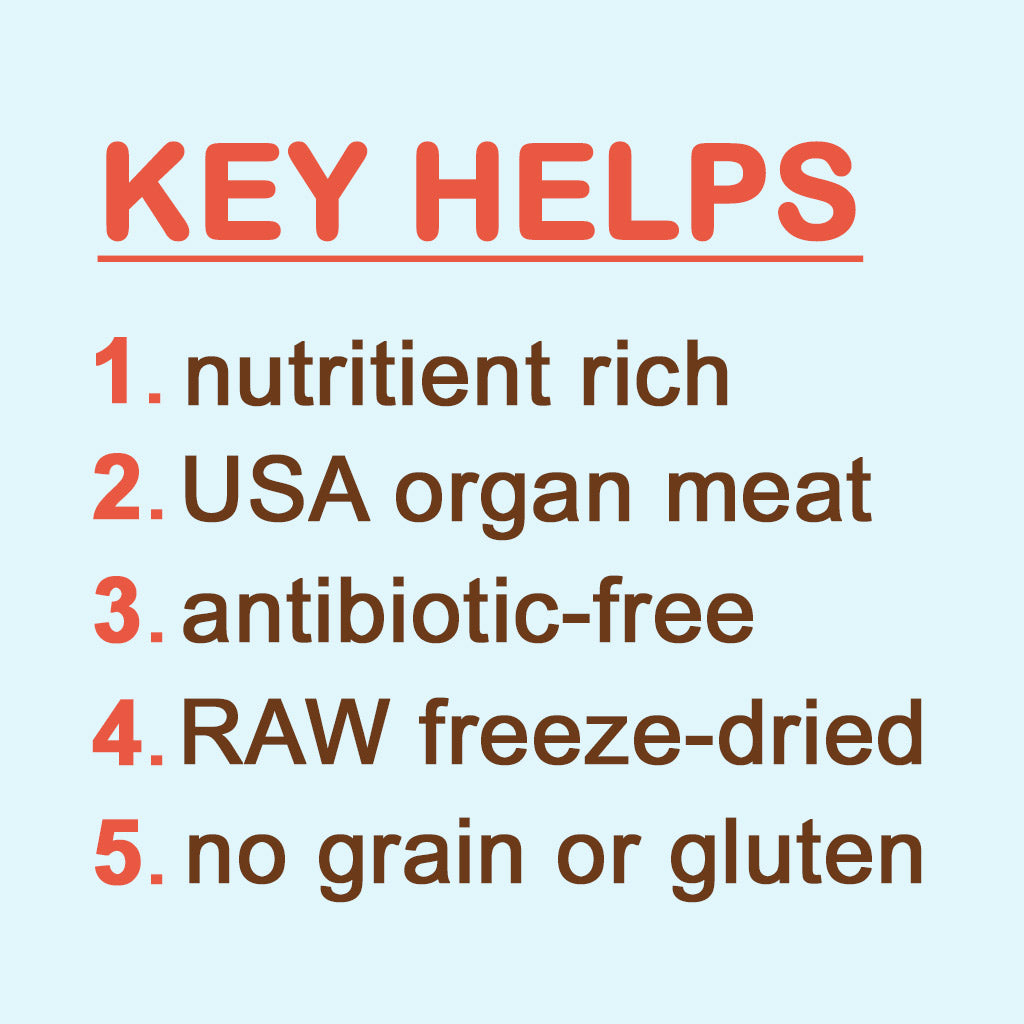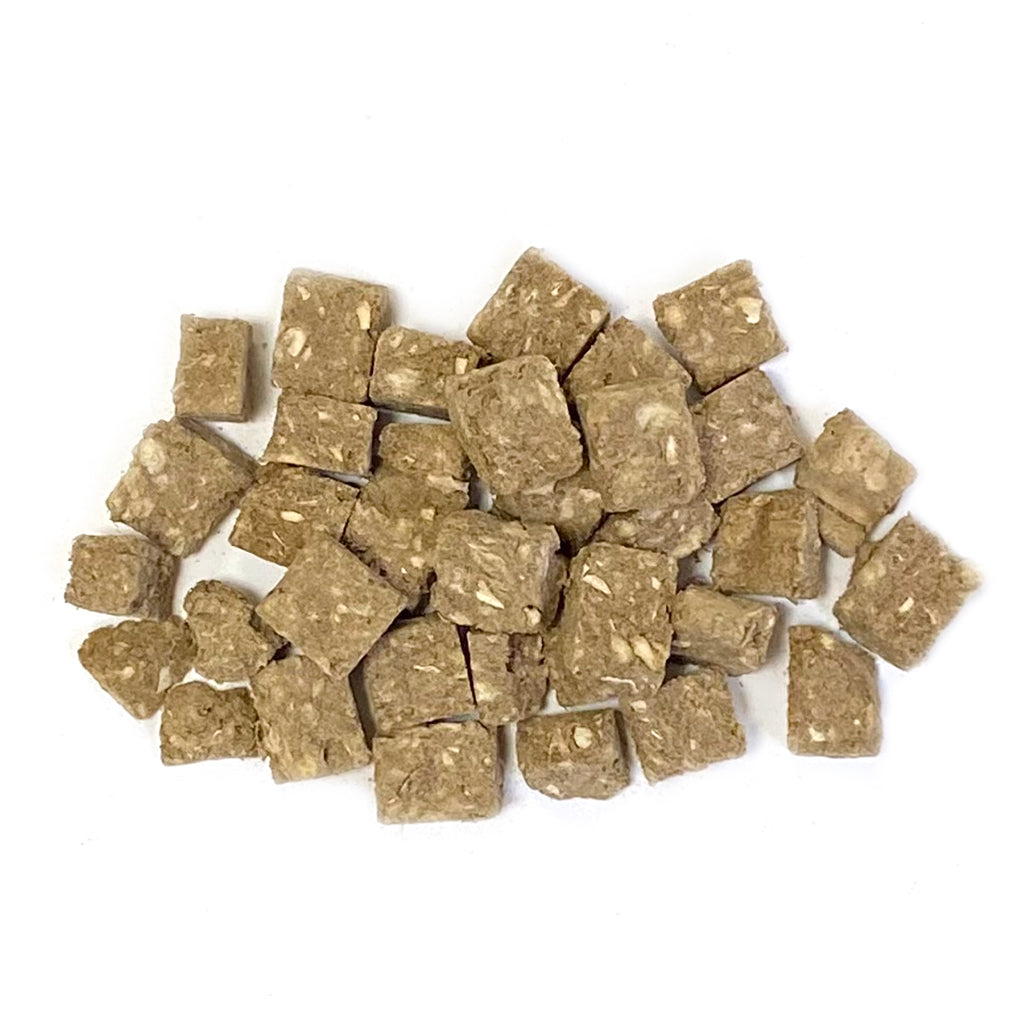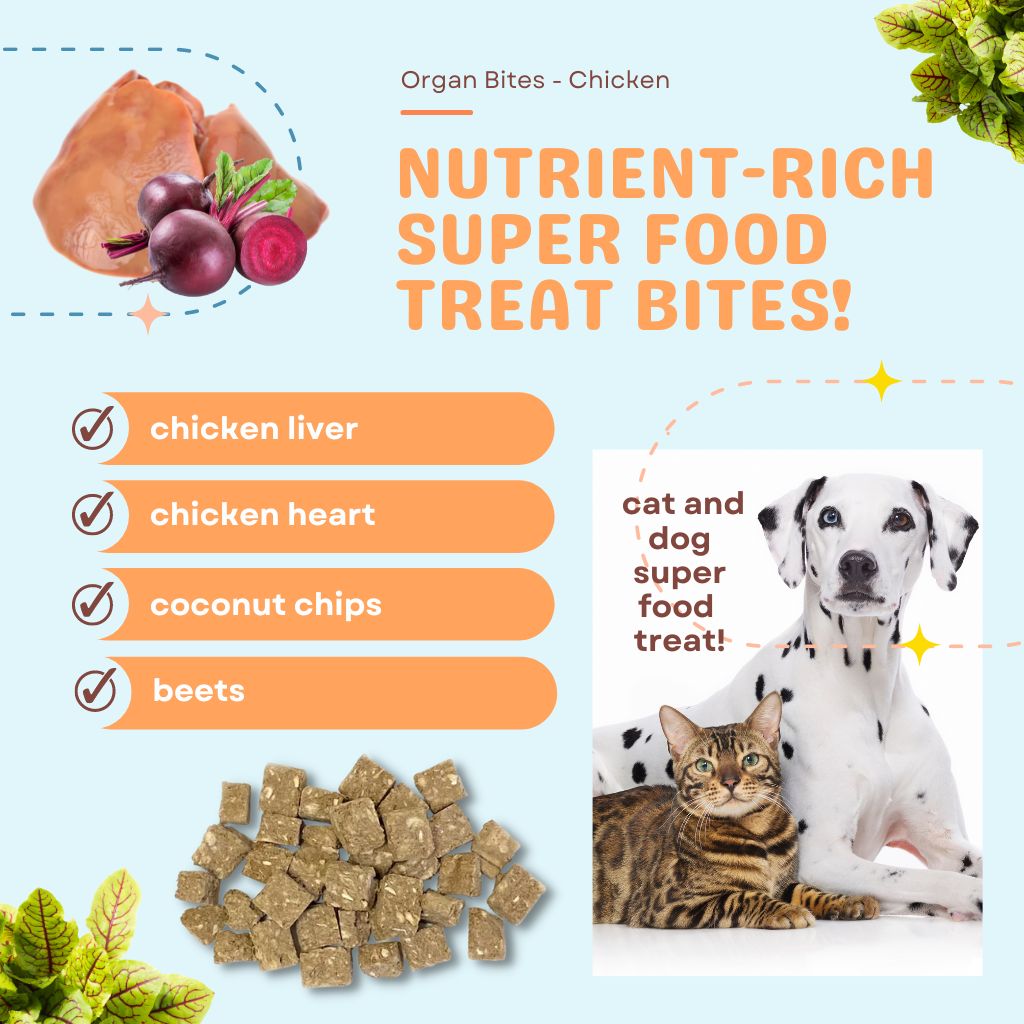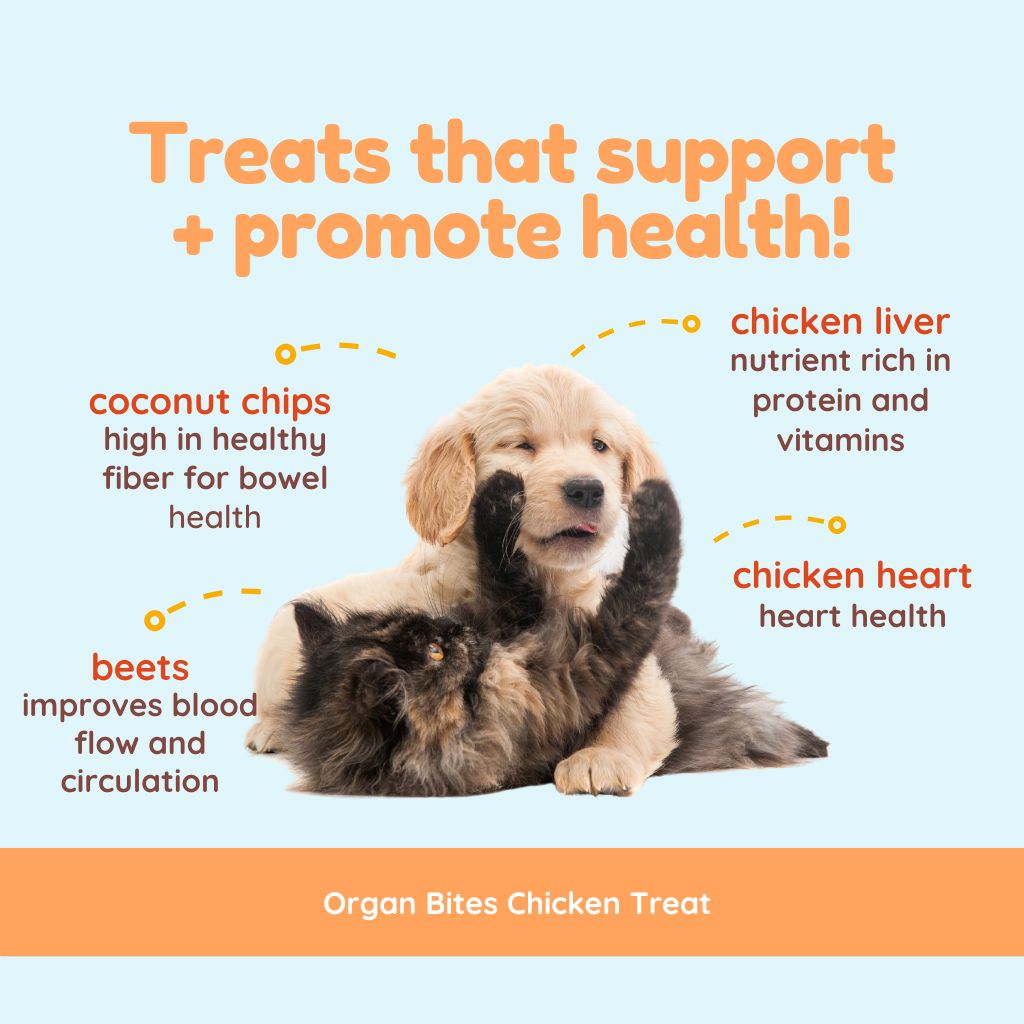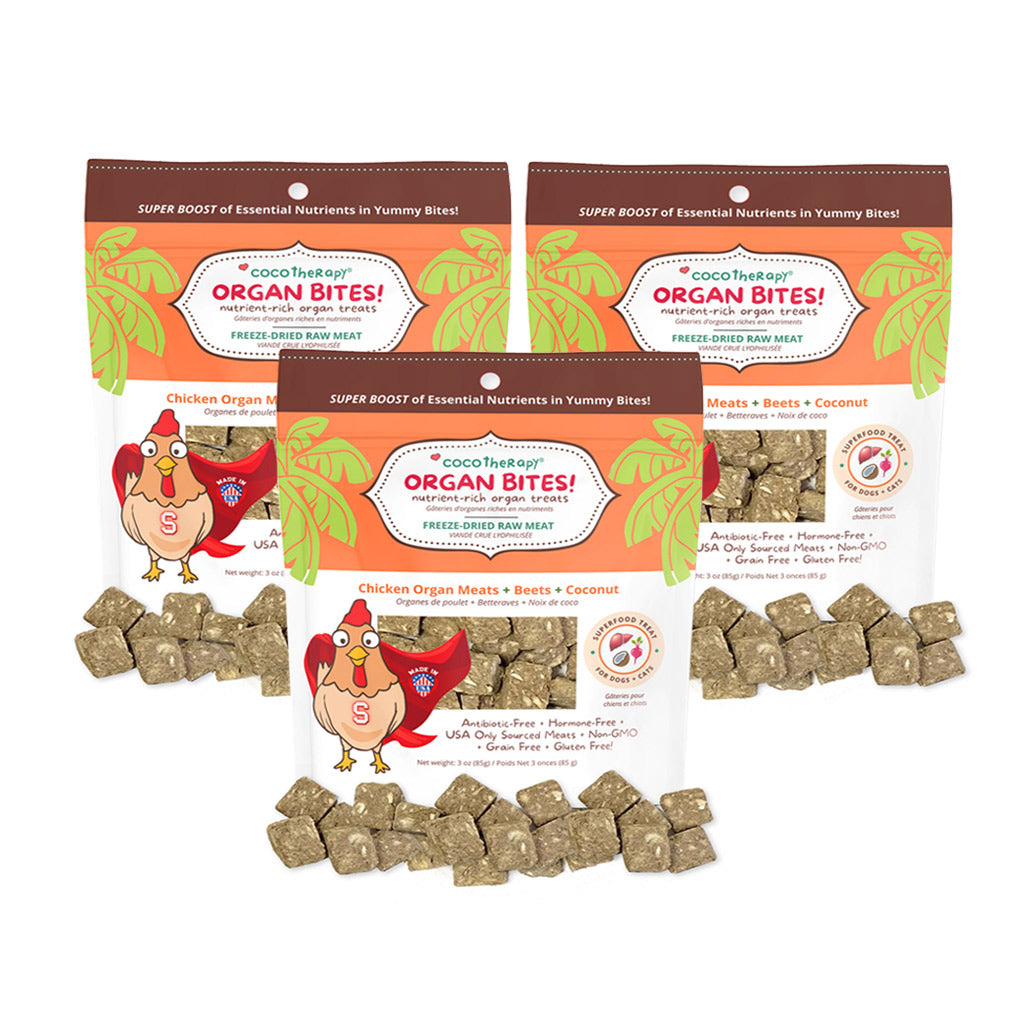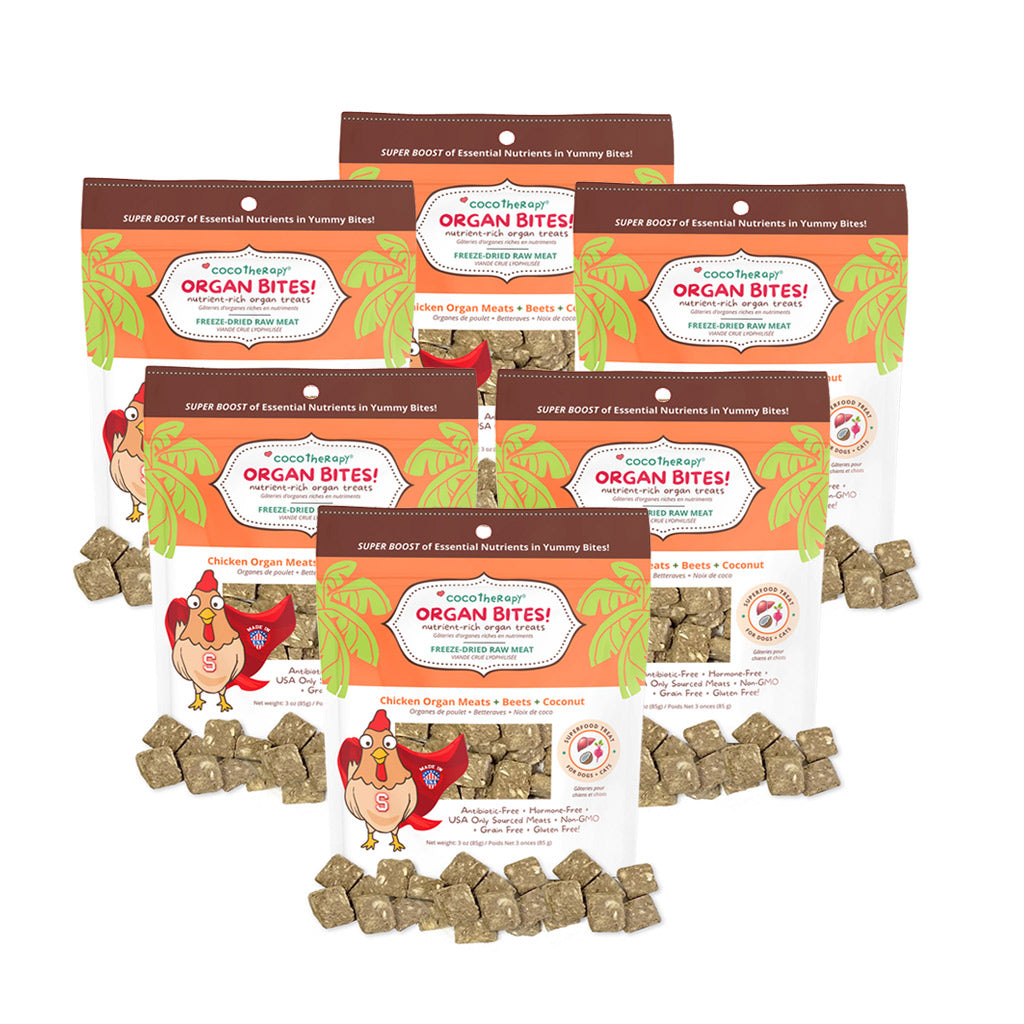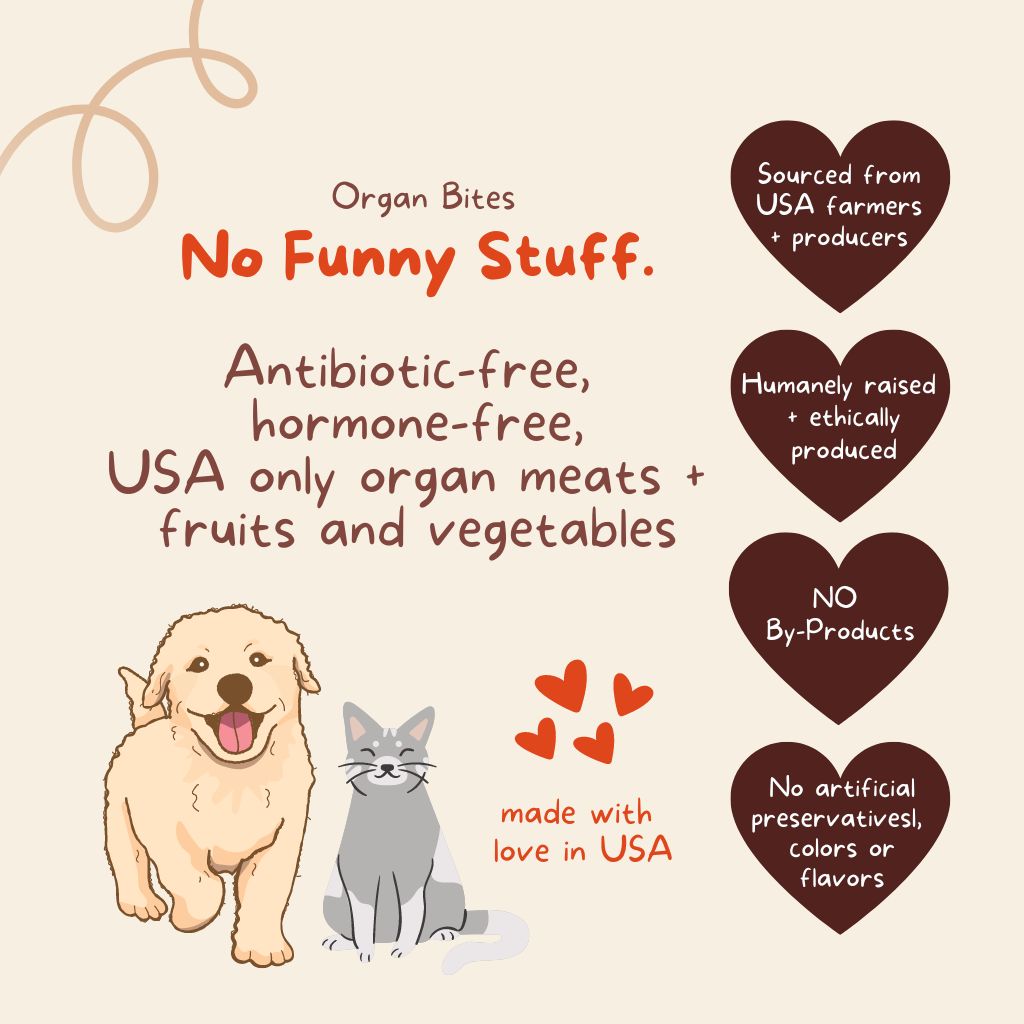 Organ Bites! Chicken Organs + Beets + Coconut - Raw Organ Meat Treat for dogs and cats
CocoTherapy Organ Bites – Chicken Organs + Beets + Coconut are raw, freeze-dried treats made with nutrient-rich organ meats.  Made of chicken liver and chicken hearts that are antibiotic-free and hormone-free, we use organs from animals that were humanely raised and ethically produced, sourced from USA farmers and producers.  Then we added the extra health benefits of super-foods from fruits & vegetables, plus our CocoTherapy Coconut Chips!  
Chicken liver is one of the most nutritionally dense foods on the planet. The organ meat is rich in protein, iron, and vitamins A, B, and C. It's also a good source of copper, an important mineral for blood health. Liver is a great way to add nutrients to your pet's diet and support their overall health. 
Chicken hearts are a good source of protein, iron, and B vitamins. They're also a great way to get CoQ10, an important nutrient for heart health. In addition, beef, chicken, and pork hearts are a good source of taurine, an amino acid that's essential for cardiovascular health. 
CocoTherapy Coconut Chips are raw, and gently dehydrated, and is a blend of soluble and insoluble fiber that's beneficial for digestive and bowel health. It helps with GI issues like diarrhea and constipation and can even soothe inflammatory bowel diseases and colitis and helps with animals who have difficulty metabolizing proteins.  Coconut fiber also promotes a healthy weight by aiding in digestion and satiating hunger.  
Organ Bites™ Raw, freeze-dried organ meats are: 
Antibiotic-Free

 

Hormone-Free

 

Grain & gluten Free

 

Raw & freeze-dried

 

No preservatives, colors, or flavors

 

Humanely Raised and Ethically Produced

 
Made with the finest ingredients: 
100% Human-grade ingredients

 

Made with organic CocoTherapy Coconut Chips

 

No by-products

 

Non-GMO

 

Sourced from USA farmers and producers

 
Ingredients: Chicken liver, chicken hearts, organic coconut chips, organic beets 
Net Weight: 3 oz (85 g) Comes in a re-sealable pouch. 
Calorie Content (calculated): 
Metabolizable Energy: 5,689 kcal/kg

 

1 treat: approximately 17 kcal

 

 
MADE IN THE USA. 
Awesome New Treat
Always looking for healthy treats for my little guy and I bought these for the first time to give it a try. My dog loves these. He can be a little particular with treats and he gobbled these up right away!
I love there products my dogs love them I would give them a 10 star if I could.
Nuggets of pure joy!
My Poodle loves these organ bites!! I will be ordering again for her.
My little Papillion LOVES these treats. I save them for when she has to go in the crate or as a 'good girl' treat after grooming. Learned about this company from Susan Thixton, Pet Food Advocate, and I so appreciate her recommendation. It's the only treats I give Penny.
Grand Slam
We are a multi little guys household, including both woofers and mowers. Just tried these organ bites and EVERYONE ABSOLUTELY LOVES THEM.
Plus I have the added benefit of knowing that they are getting very important nutrients. I break them up in the bag using a rolling pin, and then add them to the little ones food as a topper. No more turning their noses up , instead, all heads are down gobbling up their meal.
Excellent product I highly recommend.